The Joy of Cuddling With My Kid in the Middle of the Night
The only thing worse than kids' 3 a.m. wake-ups is not having them.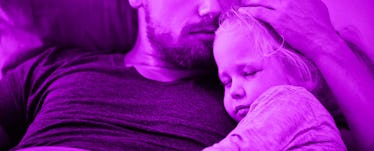 "Daddy, can we sit in the chair?" My eyes make out the silhouette of my younger child in the darkness, beside my bed. It's the middle of the night, and my child wants to snuggle and rock with me.
I reach for my bedside table and turn off the CPAP machine—a moment without breath, held in the machine's pale blue light. With a practiced flow of movement, I sweep the blankets and bedsheet from my body with one hand and the breathing mask from my face with the other; the mask falls to my pillow as my feet touch the carpet and my lungs refill with air.
This story was submitted by a Fatherly reader. Opinions expressed in the story do not necessarily reflect the opinions of Fatherly as a publication. The fact that we're printing the story does, however, reflect a belief that it is an interesting and worthwhile read.
My first thought: It's the middle of the night, far too late for snuggles and rocking, and we need to sleep. But before those words can reach my mouth, I remember how often lately my child has asked to be held. To be carried. To give me a hug. To connect.
"Yes," I whisper, trying not to disturb my wife. "We can rock for a few minutes."
A little hand takes mine, leads me around the corner of the bed and by the sleeping dog, who is too deaf in old age to wake to our movements. We slip quietly from the room and down the hall, to the rocking chair in the corner of my child's bedroom. I sit and open my arms, and my child climbs into my lap and nestles into my left side, head comfortably against my shoulder.
We rock together. I set aside my lingering worries about getting too little sleep and setting a "bad precedent" for future wake-up calls, and I settle into the peace of comforting my child, whose body rises and falls subtly with my own breathing.
After a while, when the moment seems right, I say, "Time to get back in bed."
Without a word, my child slides from my lap and crosses the room, away from me, toward the little white bed. In the glow of the nightlight, I notice my child's upright posture, purposeful steps, and lean, little-kid physique, as if growing older and taller with each step, my eyes only just now catching up with the passage of time. I catch my breath.
Snuggles are finite.
Matthew S. Rosin is a stay-at-home dad, author, and composer based in the San Francisco Bay Area. His essays explore fatherhood as a learning process and include a recent series in STAND Magazine.