Josh Brolin is Happy With His Wife, His Kids, and His Infinity Gauntlet
You still wouldn't want to mess with Josh Brolin, but the former Hollywood troublemaker might just be the happiest new dad in the universe.
by Donna Freydkin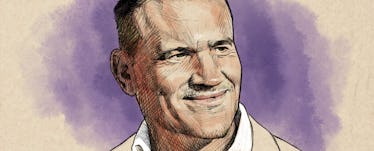 Kreg Franco for Fatherly
Josh Brolin was always a staggeringly gifted actor, but for a long time, he was better known for offscreen misdeeds. Brolin spent the late 1980s getting famous and moonlighting as muscle for a surf gang called the Cito Rats, eventually winding up in jail after an altercation with police. Even in his twenties and thirties and forties, Brolin hung his feet over the edge. In 2013, he spent four hours in a New Orleans Police Department after getting picked up for public drunkenness, something of an achievement in the Crescent City. That was Brolin being Brolin.
A tortured turn in Milk and a gruffly subtle hike through No Country for Old Men cemented Brolin's reputation as a thespian, but did nothing to rid him of his reputation as a bad boy. Then something unexpected happened. Josh Brolin, divorced and freshly minted as the monster of the Marvel Universe, turned 50, and found something that has long eluded his most memorable characters: a happy ending.
Brolin married model and designer Kathryn Boyd, founder of Midheaven Denim and simplified his life. Then, last year, he became a father for the third time on totally new and different terms. He took a prolonged paternity leave. He went home. He spent days with his daughter Westlyn. He made the producers wait.
Josh Brolin's second act is more sentimental than his first and he'd be the first to tell you so. Like Thanos stockpiling almighty jewels, Brolin hoards time with his children, including son Trevor and daughter Eden from his first marriage. "I will have lived a lifetime of children and that's wonderful to me," he says. He pauses before adding, "I don't think we're done."
"I've seen him morph into this new father figure and immediately fall into this beautiful place caring for this new baby," says Boyd. "He's naturally so happy around children."
In their first interview as new parents, Brolin and Boyd spoke to Fatherly about their profound happiness together. Brolin, freshly back for a few weeks from filming the Dune reboot with Timothée Chalamet, was far less interested in speaking about his science fictional exploits than he was speaking about Westlyn and the relief he feels having finally become the good guy (while playing the worst guy in the universe).
There's this moment when you've just had a kid and you see your significant other holding the child and you have feelings about it. What has it been like watching each other with Westlyn?
Josh: Man, do you know how nice it is to look up to your significant other? Most people present themselves nicely on Instagram and if you get into their lives, they're fucking miserable. I've seen this woman come of age and totally own herself. My daughter Eden even said it about her. She's grown in her confidence and has ownership of who she is. I see her now and there's not only a great respect, but also a nice healthy fear. I wouldn't fuck with her.
Kathryn: Watching Josh with the babe, he's got this very caring nature about him. It doesn't just apply to people he knows. It applies to everyone.
Josh: I killed my answer more. I win. I win.
Kathryn: Now you see what I deal with.
I follow you both on Instagram and the pictures there seem to show a genuinely happy family, but they aren't all movie star glossy. How do you think about intermingling your celebrity with your family life?
Josh: Instagram is another platform of expression. Actors are exhibitionists at heart. I'm an exhibitionist. That's part of our creative manifestation, so I say, use it in a creative way. And we've never ever, ever done an interview like this. It's cool. We've just never done it.
Josh, Westlyn is your third child and your first with Kathryn. How has this time been different? What insights did you take away from your experiences with your other kids that you're putting to work here?
Josh: When I had my older kids, when they were young, I was really into it. I was always into being a dad. But I was always worried about not working. It was based on what was available and who was interested. The day after Eden was born, I was on a plane for New York to do a pilot. It was horrible. This time, I took 17 months off to be with Kathryn through the whole pregnancy and until the baby was four months old. There was no plan beyond that. This Dune thing came out of nowhere. I made a deal that I would work no longer than two weeks and then come home for two weeks.
So, how's she doing? Is she sleeping okay?
Kathryn: She's more consistently on a two-nap schedule. We've gotten her on a schedule and it's changed my life, to be honest. You have to lay the groundwork early.
What's it like raising a daughter this time around, Josh? Times have changed.
Josh: She has a very strong personality already. That's the truth. She's very much her own person. I have a son. If I had the choice between either one, I would pick girls. Boys are tougher. Girls, there's more bravery, for lack of a better word. I don't see a lot of running away from things. I see the bravery to confront moments.
My daughter Eden just moved to New York. She moved away at 25 years old. I miss her terribly but I good on her. She's writing her own manual. I love that more than I would selfishly love to have her closer. If you raise a kid that feels comfortable enough to go out on their own and they come back on their own terms, it's worth ten times as much.
Kathryn: I try to put her down for a nap. She's on a schedule now. Josh blows through the door, 'What's up!' He demands that everyone be their own person.
Kathryn, you're a working mom. How has that been? How's the dual income family thing going?
Kathryn: The idea was percolating since I was 19. I was doing the whole modeling thing in LA. Then I launched four products in January of last year. I almost sold through the whole lot. I did four more and another four. I go for these underserved demographics. I would love to add sleepwear, bathing suits. I'd love for it to be an umbrella company.
My mom worked when I was young. She had to. Don't be a nonworking person in the world. You always need to have your own working life.
Josh: This is not a comment on anyone else, but there have been no nannies. There's been no anything. There's no reason she can't have the baby and do what she needs to do. There are moments like today. We're around family in Atlanta. Her stepmom is going to watch the baby and we're going to do something for a couple of hours. We don't take breaks. Westlyn is with us all the time.
Josh, it's funny hearing you talk in this sweet way about your family because your face is on billboards across the company that basically show you trying to destroy the universe. How's the whole Thanos thing going?
Josh: It's cool, man. I love that this guy has become this era's Voldemort and Darth Vader. It's cool. They're focusing on the original six so with this movie I haven't had to do much.
That movie might have the biggest box office ever and you seem so content to talk about Westlyn. It's beautiful. You clearly have your priorities straight.
I'm older. I like being older. One of the greatest moments of my life was turning 50. I don't have the reactions I had before.
This article was originally published on