The Fatherly Questionnaire: John Legend
The Grammy- and Academy- Award-winning producer, musician, and activist takes the Fatherly Questionnaire.
by Ben Marx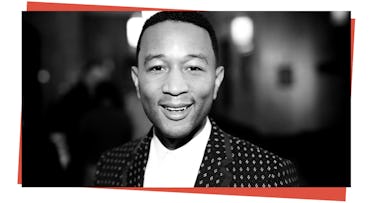 GETTY
John Legend is one Emmy away from EGOT status. The tireless singer, musician, producer, activist, and dad (not necessarily in that order) won his first Oscar in 2015 for writing the song "Glory" from the film Selma, and received a Tony this year for co-producing the play Jitney for Broadway. Which is all to say that the Emmy feels inevitable and even a bit much given the ten Grammys. He's also already gotten a more admirable bit of recognization: Legend was one of Fatherly's Father of the Year honorees for his commitment to improving children's education. In 2014, Legend co-founded LRNG Innovators, an organization that awards grants to innovative teachers across America. His commitment to providing his daughter, Luna, with a quality education has extended to his mission to enhance the state of education for American children.
What is your name?
John Legend.
Age?
I am 38 years old.
Profession?
I am a singer, songwriter, producer, and an activist.
How old is your kid?
My kid is eighteen months old.
What is her name?
Her name is Luna.
Was she named after anyone in particular?
Her middle name is after Nina Simone, who's one of my favorite artists. Luna is not named after anyone in particular, but we just like the name.
Do you have any cute nicknames for her?
Luna we call "Looney Tunes" or just "Tunes," and "Lulu" as well.
What does she call you?
She calls me "Dada."
How often do you see her?
When I'm not on tour, it goes in phases. I was on tour in Europe for five weeks, she was there for the first week and then I didn't see her for an entire month, which was by far the longest I'd been without her. But most times I'm with her every day, and she was on tour for the North American tour with me almost the entire time, so I didn't spend more than a couple days away from her.
Describe yourself as a father in three words.
I am loving, musical, talkative. I like to play music for her, I like to play on the piano, I like for her to sit with me on the piano and play with me. I dance with her, I like to have an atmosphere where music is prominent in our home. When I'm gone, my wife plays me just to kind of keep her close to me, but, when I'm home, I don't really play my own music at all.
Describe your father in three words.
We actually have a lot of similarities when it comes to personality. He's very mild-mannered, easy-going, and creative. He designs hats, he makes his own clothes.
What are your strengths as a father?
I'm present. I don't think that there's anything as a father that I should not be able to help with. I don't believe in, "Mom's supposed to do that." I'm here, I'm going to help with whatever I can help with. Change diapers, whatever it requires.
What are your weaknesses as a father?
My wife is much better at playing and making Luna laugh than I am. I'm more straightforward and I'm not as creative when it comes to that kind of thing. I think that's a weakness of mine. Mom is always good at figuring out how to entertain her better. I'll bring her on the piano and she enjoys that, but I'm not as good at coming up with ideas to entertain her.
What is your biggest regret as a father?
When I'm gone for significant periods of time. A lot of people's livelihoods depend on me working. Mine does, too.
What is your favorite activity to do with your daughter?
I love dancing with her. She does not have good moves yet. And who knows? I don't even have good moves. But I like to spin her around and just hold her and dance with her, she loves that.
What is your proudest moment so far as a parent?
I love seeing her learn words and being engaged with people around her, and I love that she's really social and has a great disposition. That makes me proud.
What heirlooms, if any, did your father give to you?
My dad's an artist, and he paints and does pencil sketches, and a lot of the things he would give to us were pencil drawings that he did commemorating certain moments in time for our family.
What heirlooms, if any, do you want to leave for Luna?
I don't even want to think about that yet. My business manager was like, "You've got to do a will sooner or later," and I was like, "No! I don't want to do one!" Eventually, I'll have to do one. And we'll leave her as much as we have. If both of us are gone, it's all hers.
Describe the "dad special" for dinner?
I'm good at fried chicken. And mac and cheese. I make pancakes for Luna in the morning.
Are you religious and are you raising your child in that tradition?
I'm not religious and we're not planning to raise her religious, no.
What is a mistake you made growing up that you want to ensure your child doesn't repeat?
I'm sure I'll have all kinds of thoughts about what I would do differently from my parents, but I think, overall, my parents did a pretty good job. Obviously, I don't want to get divorced, and I think it'd be difficult for my kids if we got divorced, particularly while they were still kids and not living on their own. I was 10 or 11 years old when my parents got divorced. That was tough for all of us, and I wouldn't want my daughter to ever experience that.
Besides saying it, how do you make sure your daughter knows you love her?
I'm very physically affectionate. I hug her and kiss her all the time.