Joe Buck's Kids Are Calling the Plays at Home, And He's Enjoying Every Minute
"I was determined to make my kids never feel that dad's first priority is not them. It's not work. It's them."
by Donna Freydkin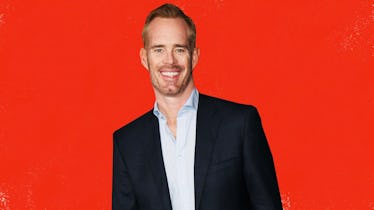 GETTY
With live sporting events on hiatus, sportscaster Joe Buck has pivoted to calling play by plays of a different sort. He's home in St. Louis with his four kids, an au pair, and his wife, ESPN reporter Michelle Beisner, announcing the potty training results of his twins Blake and Wyatt. He's also doing a bit of performing with the Buck Boys Band, a pint-sized outfit with a very limited catalog. He is, in short, enjoying himself at home.
"Typically, I would be running out the door every Friday going to a baseball game in another city," he says.
As the face of Fox Sports for two decades and counting, Buck serves as the network's lead announcer of MLB and NFL games, and calls the Super Bowl every three years. He's built on the legacy of his late father, Jack Buck, who announced the MLB games of the St. Louis Cardinals for 47 years, but he's also become a somewhat polarizing figure. His haters, of which there are many, accuse him of being biased towards certain players and for stating the obvious when he's calling games instead of providing lyrical commentary. There's even a Facebook group and a subreddit specifically for airing Buck-related grievances. Buck doesn't hide from this. He takes it all in stride and keeps it light.
"If I have daddy issues, it stems from living in the large shadow of my father in the city I still call home," he jokes.
Fatherly spoke to Buck about time off, sports, and what it means to inherit a legacy.
Your older daughters are in their 20s, and you have 2-year-old twin boys. How is fatherhood the second time around?
There are way more similarities than differences. I had two girls spread apart by three years. That was a little easier, as opposed to being 51 with twin boys who are 2. That's a lot. The similarities — having grown up the way I grew up, with my dad working 10 times harder than I now work in my life, I know what it's like being on the kid end of that. My dad and I had a great relationship. When he was in town, we would maximize our time together. I was determined to make my kids never feel that dad's first priority is not them. It's not work. It's them. I have to make decisions that put my kids and my family over saying yes to every work opportunity that comes along. You have to be willing to step back if you're able to be in that position. I let other people do games that I could be doing.
Now that your career is firmly established and you have more time, has it changed the way you parent?
I was all in then and I'm all in now. I just have a lot less patience now which is not a good thing. I love going on walks with them and you can point out different things and they learn about nature and birds. We have this nest above our front door with a mama bird and we watch her feed worms to the baby birds. They're transfixed. When you have quiet with them and they can pay attention. They love animals. We're raising young Joe Exotics.
Do you see either of the kids turning into a sports nut?
I married a dancer who was a Broncos cheerleader. I think she's more guilty of trying to make our kids dance than I am of trying to make them hit home runs with a wiffle ball. We fall back on what we know and I know sports. Wyatt is more like mom. If you turn on any song, he'll dance to it. Blake looks like me more and he'll take the plastic bat and whack the hell out of something. It's the best way to have twins. They're not two clones. They don't have the same personality. Let them do whatever the hell they want to do. I sure am not forcing them to do anything.
You're surrounded by players in your day job. Which ones are the standouts when it comes to fatherhood?
My dad broadcast for the Cardinals for so many years. Even as a little boy, someone who just won a game or just gave up a big home run, being in that family room after and seeing that go out the window and their mood change — the minute they saw their kids, it was a complete change in a good way. I've always seen these different parents. The biggest name I can think of who was a great dad is Albert Pujols. He does everything he can community wise to raise awareness of special needs. Kurt Warner is a great father. He's surrounded by his kids. Now he's going into coaching because his kids are the right age. That's the rule. A lot of these guys are good family people. The exceptions are the lifelong bachelors.
You're in lockdown with your family. How goes it thus far?
My wife and I fight a lot more than we have. We're navigating our way through it. The silver lining is all this time with my kids. My daughters are here with their brothers and that's been the most satisfying.
Every day is pretty much the same. We are up and looking at the clock and looking for lunch and nap time. The daily routine kicks in after the nap. Whether it's reading books or time around the dinner table that we probably never had as a family before. The boys go down after bath time. The older girls and the au pair and my wife break out Cards Against Humanity or Monopoly that we've never done as a family.
Do you have any intel on when live sports, with fans and commentators, might actually resume?
I don't have any concrete evidence — nobody said that for sure that when they go back playing, you'll be there. We're always reminded how big a part of daily life in America sports really are. I think having new sporting events will be an emotional return. I'm tired of watching all the old stuff. I know how it ends. We will be there in some form or fashion, if we're in the studio calling the event or if we're at the event. We can't do it from home. The technology is not good enough.
You and Oliver Hudson have a podcast called Daddy Issues. What inspired you to do it?
The inner voice that bounces around in my head is that I'll never measure up to my father. Oliver has Goldie Haw and Kurt Russell and Kate Hudson hitting him everywhere he turns. We talk about that a lot. Going down the family tree — his kids are right in the middle of my older ones and my younger ones. We don't pretend to be experts. It's about how we go through life and pay attention to our marriages while raising kids and having jobs. It's the dad side of things. He's mid 40s and I'm 51. We just try to have fun with it. Everybody has daddy issues. They don't have to be bad. Oliver's dad left him when he was six and totally checked out when he was 11 and he's just now mending that relationship. That's a beautiful thing. Everybody has a story to tell.
This article was originally published on