8 Job Search Strategies That Will Help You Get Noticed
These are the tips experts suggest you keep in mind when looking for a new job.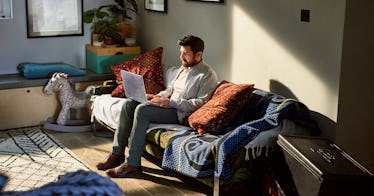 The past two years have seen employers and company cultures make drastic changes regarding their expectations and the realities of everyday work life. In doing so, many have had to cut employees in large numbers, while others have struggled to retain employees who now see through the fact that there may be better options offering more flexibility, work/life balance, and benefits. With so many variables in play, now is an incredibly unique time to be in the job market. But what is the best job-search advice to follow right now?
Hari Kolam, CEO of Findem, a talent acquisition company, explains that now more than ever companies are looking to hire people, rather than employees. This means that the development of personal websites and building up your digital network will help you stand out in positive ways. Conversely, the tricks you may think make your resumé noticeable may be hurting its chances of being seen.
When it comes to searching for a new job, the right strategy is crucial. Whether you're looking to climb back into employment, switch gigs, or start a new career altogether, we asked Kolam and Akhila Satish, an award-winning career expert and CEO of metacognitive consulting company, Meseekna, to share the tips they think are most vital right now. Here are the tips they mentioned.
1. Build a Personal Website
and
2. Take Inventory of Your Existing Network
3. Keep a "Frustration Journal"
4. Network with "You" in 10 Years
5. Use a Tracking System
6. Don't Get Too Fancy
7. Be Truthful About Resumé Gaps
any
8. Use Job-Specific Keywords