9 Ways to Save Money on Home Renovations, According to HGTV's Jason Pickens
The host of "See J Work" offers his tips for saving real money on repairs and renovations.
by Dave Baldwin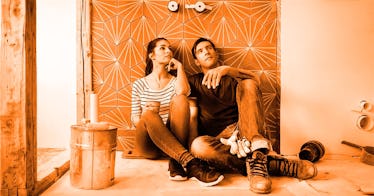 Home renovation tends to take a backseat when you have young kids. Who can afford a $20,000 kitchen remodel when daycare costs more than your mortgage? Sure, a new bathroom would be nice, but college isn't getting any cheaper and that 529 savings plan's not filling itself. Financial tradeoffs must be made when you have a family and, more often than not, other expenses take priority over outdated countertops and a carpeted kitchen.
But for expensive as home renovation projects can run, there are ways to cut costs. That's why we reached out to Jason Pickens, the Brooklyn-based bespoke furniture designer, former contractor, and host of HGTV's See J. Work who knows how to tackle home improvement projects on a limited budget. Fatherly recently spoke with Pickens from his workshop in Florence, Alabama, to get his top tips for saving money on home renovation, redecorating, and repairs.
Pick a Project. Make a Budget. Stick to It.
It may sound like common sense, but picking one home renovation project and sticking to it is harder than you think. Homeowners often get excited ⏤ and overwhelmed ⏤ by the number of potential modifications they can make to their space. And more often than not, they take on too many things at once and get sidetracked, making costly changes in the middle of work. Pickens says spending more time in the planning stages will help you save a lot of time and money in the long run. He jokes that it's not uncommon for people to be easily swayed by friends who come over mid-renovation and make suggestions about what they should be doing.
"The most important thing you can do is think about the project in the beginning," Pickens says. "Choose the one thing that's really important to you, that you want to spend money on, and do it. Then make a plan, stick to it, and stay on budget."
Be Decisive
"Being indecisive costs money," says Pickens. "As does getting derailed on a project. It's as simple as that." The longer a builder or contractor has to wait for you to make up your mind about which cabinets, light fixtures, or countertops to order, the more money the project will cost you in the end. If you can plan ahead and make decisions quickly, says Pickens, they won't have to build in so much padding to accommodate your indecisiveness.
Focus on Smaller Changes That Add Value
Rather than undertaking a budget-busting bathroom renovation while your toddler's in the middle of potty training, Pickens suggests making smaller, less-expensive tweaks that both add value to the home and make an immediate impact. A few of the projects he recommends include adding a tile backsplash in the kitchen, swapping out kitchen and bathroom cabinet hardware, and replacing light fixtures ⏤ especially in the entryway.
"When you're looking at a kitchen, consider changing the backsplash," Pickens says. "It's usually a small area but adding tile can transform the look of a kitchen and make it more elevated." Not only that, he adds, it's an easy two-day project that requires minimum skills and only a box or two of tiles.
"I also think people forget about changing hardware," he adds, "Whether it's doorknobs or cabinet knobs or fixtures in the bathroom, all of those things are modular pieces. You can buy good antique fixtures or antique knobs second hand at a yard or estate sale really cheaply and they add immediate value for almost nothing."
While you're at it, Pickens says, go through and upgrade your entire house to energy-saving light bulbs. "That's just a good way to save money period."
Get Creative
Pickens can't stress enough how easy it is to save money by getting creative with your design choices. Whether is wrapping your kitchen island in leftover flooring, using reclaimed beadboard or a textured wall covering in lieu of paint, or turning wood scraps into a floor, there are endless ways to parlay creativity into cost savings.
"The main money in your kitchen and bathroom is in the cabinet install and in the actual cabinets, for example," says Pickens, "The doors are just add-ons." Which is why he suggests getting creative with them ⏤ either decorating the panels, replacing them, or removing them all together and having open cabinets ⏤ as a way to save major money on a renovation.
Similarly, he suggests selectively replacing countertops if you can't afford to do the whole space. Maybe you replace just the kitchen island with expensive Corian countertops, since that's the piece you use the most, and the rest can be something cheaper, he says. Or replace the area around the cooktop with a nice piece of contrasting stone.
"The key to saving money is making creative decisions," Pickens says, "If you have something left over from a school play or some random wallpaper or fabric, using those materials in a different way is essentially improving your home for free.
Do The Easier Projects Yourself
While a lot of DIY experts recommend tackling demo work yourself in order to save cash, Pickens disagrees. He argues that it's best left to professionals who can immediately identify problems with the integrity of the home. After the demo is complete, however, he suggests assessing the to-do list and the tackling smaller projects that are easier to complete, like installing tiles and laying a vinyl floor.
"Tile work is not complicated," says Pickens, "And neither is pulling up carpeting and adding flooring, which is also something that can really elevate a space. In fact, adding vinyl flooring can be really, really cheap and easy to install. For some types, you don't even need machines or glue ⏤ it just lays down and locks together. It's almost not even a DIY project."
Let Your Contractor Buy The Materials
A lot of people recommend saving money by buying and schlepping all your own materials and supplies home, but again, Pickens disagrees. "In the long run, it's difficult for a person who doesn't deal with these things all the time to know exactly what to get." Buying the wrong items leads to returns and lost time. The better thing to do, he says, is research what you want ⏤ either online or in the stores ⏤ and show your contractor pictures, be it a light fixture or granite countertop. Because contractors work with lots of materials and vendors, they can suggest companies that make a less expensive version of the product (or at least one that's pretty close) or access left-over stock that might be much cheaper. Not only that, but they can tap their sources for deals and extras, as well as save you money on shipping if they're already ordering in bulk for other projects.
Use Recycled or Reclaimed Materials
"There are always creative ways to find older recycled or reused materials," says Pickens, who recommends visiting flea markets, antique shops, and your local reclaimed wood supply to track down second-hand materials and cheap antiques in good working order. Green Depot is another great resource if there's a store near you. "They go around to people who are doing demos and they take out kitchen cabinets, full kitchens, and full lighting fixtures, among other materials," he says, "And sell them at extremely discounted prices. You just go and pick them up."
"There are also certain times of the year that are better for sales," he adds. If you want to spruce up your deck with new patio furniture, for example, buy it at the end of the summer when it's heavily marked down and tuck it away in the basement until the spring.
Lengthen Your Project Timeline
One of the easiest ways to bring down the cost of materials, says Pickens, is to stretch out your project timeline to take advantage of deals throughout the year. "Once you decide to redo your kitchen, take the next three months and pay attention to materials that you see, and say to yourself how can I use this weird material in my kitchen." And then when it goes on sale, buy it cheap.
Pickens recommends using the longer timeline to collect materials and furniture that you want to incorporate in your remodel. Not only can you save money by taking advantage of the sales, but you'll also be able to present your contractor with everything they need to get started ⏤ which helps cuts costs and allows them to provide a much more accurate project estimate.
Choose a Contractor Based On How Well You Communicate, Not the Bottom Line
One of the biggest mistakes people make with renovation projects is hiring a contractor based entirely on the numbers when they should be focused on communication. "The most important thing when hiring a contractor is that your personalities have to jibe," he notes. "If you guys can joke together and speak the same language and talk about things, that goes a long way." Renovations are stressful and you want to be working with someone you get along with, rather than obsessing about getting the cheapest price or consistently worrying that they're "trying to screw you out of a bunch of money."
Pickens recommends getting quotes from a couple of different contractors and choosing the one you like the best, even if they're slightly more expensive. Good communication can help you avoid potential cost overruns and delays, which means you'll save more in the end. "I know people always want to save money, but you have to think about saving on the whole project, not just the individual line items," Pickens says. "I always say a good contractor who can communicate well, but maybe 10 percent more expensive, is cheaper than the one who is lowballing you. Also, don't forget that you're inviting this person into your house, with your kids. You want to make sure it's someone that you like."