So, Is the Housing Market Going to Crash?
The sharp spike in home prices resembles 2006, but the reasons are different this time around. Here's what to know.
by Daniel Kurt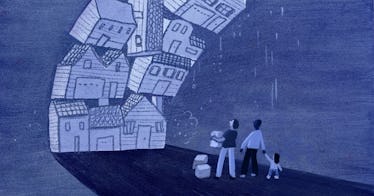 Jonathan Muroya for Fatherly
A once-in-a-lifetime pandemic and a historic spike in unemployment. The events of this past year may not sound like the recipe for a huge uptick in demand for housing, but that's exactly what's happened. This has a lot of people thinking back to 2008 and wondering Is the housing market going to crash?
The typical value of a U.S. home was $272,446 in February, a 9.9% increase from the same time a year before, according to the latest figures from Zillow. And, for the time being, there aren't many signs of that trend abating.
COVID-19, rather than putting a chill on demand, ended up creating the ideal conditions for homebuyers, says Jeff Tucker, a senior economist with Zillow. While service workers felt the brunt of the employment hardship, many middle- and upper-income earners actually saw their financial health improve thanks to multiple stimulus checks. Combine that with incredibly low mortgage rates this past year, and suddenly you had a lot more Millennials who could afford a house.
The fact that the work-from-home phenomenon ended up being a long-term prospect for a lot of white-collar workers created even more incentive to buy. "It created demand for bigger homes with space for an office," says Tucker. In other words, the coronavirus acted as a catalyst for the real estate market, accelerating the pace at which younger consumers bought their first home.
Adding to this perfect storm for price growth: A double-digit drop in the number of listed properties, according to Housing Wire. "Any hopes of 2021 bringing an influx of homes to the market and lessening pressure on prices appear to be dashed for now," Ben Graboske, the president of data and analytics for the software firm Black Knight, said in a recent report.
All of this has created a precarious situation for homeowners, whose initial excitement over rising home values seems to be giving way to a sense of déjà vu. Meanwhile, more than a few would-be buyers are asking whether they're better off waiting for prices to change direction. Incredibly, Google searches for "When is the housing market going to crash?" soared 2,450% in just the past month.
While anything is possible, Tucker says he isn't seeing evidence of any sudden swings, a la 2006. For one, the days of taking out a mortgage with no income verification are more or less a relic of the past. And those balloon-payment loans, which created a ticking timebomb for homeowners more than a decade ago? They're pretty much gone, too.
On average, mortgage payments represent a much smaller share of household income for today's buyers compared to the housing crash of 2008 over a decade ago, and the vast majority of new owners are taking out fully amortized loans, explains Tucker. The upshot: they can actually afford the homes they're moving into. "There are a whole lot of people who could really stomach bigger payments if they had to in order to get into their first home," he says.
The reality is that home-buying, for those who can afford it, is still looking like the best bet for a lot of younger consumers. With the exception of certain high-priced markets on the West Coast, Tucker says that buying is still attractive compared to renting in most of the country. And because the cost of building homes is relatively high right now, due to a spike in lumber prices and a labor shortage, that's not a great option for a lot of folks.
One of the open questions right now is what effect a recent uptick in interest rates, which last month averaged more than 3% for the first time since last summer, will have on the market. But for now, most economists seem to believe that's more likely to induce a gradual slowdown rather than a sudden reversal in demand.
"Rising mortgage rates and severe supply constraints are pushing already-overheated home prices out of reach for some prospective buyers, especially in more expensive metro areas," Frank Martell, president and CEO of the real estate data firm CoreLogic wrote in a statement earlier this month. "As affordability challenges persist, we may see more potential homebuyers priced out of the market and a possible slowing of price growth on the horizon."
So, do homeowners need to worry about a Housing Meltdown 2.0 any time soon? Looking at the dynamics of the market right now, that seems unlikely. Of course, one thing we learned back then was that just how complex, and unpredictable, the housing market really is. But this time around, growth really does look like it's driven by real demand for homes, not Wall Street firms looking to get any warm body they can find into a mortgage.
Thankfully, any comparisons to 2006 look like a hard sell.
This article was originally published on