In-Home Child Care Could Be the Solution to Covid-19 Parent Woes
While it certainly comes with concerns, home-based child care offers parents a lot of positives in the era of coronavirus.
by Adam Bulger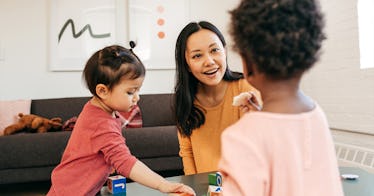 When Covid-19 lockdown ends, who will watch America's children? The child care system is on the brink of collapse, which means millions of children will have no where to go when parent head back to work. Right now, this feels like a long way off. But it isn't and child care and day care solutions need to be figured out, lest our country wants a large chunk of its work force to not be able to work.
America's child care system was broken before the pandemic, with more than half of America living in childcare deserts where demand for child care far outstrips supply and one in five parents spend more than a quarter of their income on childcare while child care employees are among the lowest paid workers in the country. But as bad as the national child care landscape was before Covid-19, experts warn that the pandemic may have damaged it beyond repair.
"Covid-19 really has devastated the childcare system," says Mindy Bennett, Deputy Chief of Partnership of the national child care advocacy organization Child Care Aware of America. The Coronavirus Aid, Relief, and Economic Security (CARES) Act passed by Congress included $3.5 billion for child care providers. Despite that aid, an estimated 4.5 million child care slots have been lost permanently during the pandemic. Some regions are particularly hard hit. For instance, as of mid-June, only 10-percent of day care centers in Wayne County, Michigan had reopened.
All in all the forecast is grim. "I've had community leaders tell me that they suspect that about 50 percent of their childcare have closed and will not reopen," Bennet says.
But there may be a solution hiding in plain sight: Home-based child care centers. These centers, where small groups of children are cared for by the families who own and live in the building they oversee, could be the answer for which so many working parents are searching. While looser regulatory structures, well-publicized horror stories, and general unease with home-based care might make parents wary of entrusting their children to them. But new models of home-based care, especially in the Covid-19 age, could change skeptical parents' minds.
Home-based child care, also known as family child care, ranges from informal baby-sitting (ie: Aunt Kathy down the block watches the kids) to larger groups of children and professional training. Because they're operated from homes, these services have less space than child care centers. Usually, that means groups of five to 10 children of varying ages, with siblings kept together despite age gaps.
"Family childcare is a more home-like environment," Bennett, a former home-based care center operator, says. "It may represent your home beliefs and culture more than a center."
With fewer children, home-based care centers require less staff than larger day care centers, so children may see the same faces year after year and caregivers have deep knowledge of the children's needs and learning styles. Parents can also have more direct, personal relationships with the person caring for their children.
"They're usually very good around family engagement activities and the communication with families," Bennett says. "And you can keep your child with the same caregiver from the time that they're an infant to when they no longer need before and after school care."
In several important respects, home-based care is better suited to endure the pandemic than large daycare centers. While home-based care providers in states like Pennsylvania are struggling from decreased demand, risk of exposure and the state's social distancing requirements, Bennett noted that under the CARES act, home-based care center owners may qualify for unemployment insurance as small business owners affected by COVID-19. And they generally charge less than day care centers, making them an attractive option for parents worried about losing their jobs.
Moreover, the small group size and clustering of siblings align with COVID-19 safety recommendations. "It's really helpful to have sibling groups and a family child care is really set up to have sibling groups together so that you're exposed to fewer people and fewer children," Bennett says.
Child care regulations vary by state. In general, home-based child care rules are comparable with child care centers, with certain caveats. Day care centers may need to have a ratio of toilets to children, for instance. This is something that would be impossible for someone operating a business out of their home.
"I come from the state of Indiana and in the state of Indiana, you are not required to have a license until you care for five or more unrelated children," Bennett says. "So I could open up a family childcare home in my home and not have any regulations if I just took in say three children and my grandchild. So I have four children. I wouldn't have any other regulations to be an operation because I'm caring for such few children."
Licensing regulations vary as well. Care Aware's state by state guide links out to state governments' regulation pages. In Virginia, for example, home-based child care programs agree to at least two inspections per year, including unannounced surprise inspections. They also need to meet requirements for background checks, training/orientation, health and safety. But home-based centers overseeing four or fewer children aren't required to have a state license, except in Arlington, Alexandria, and Fairfax County, where local ordinances require all home-based child care services to be licensed. Unlicensed centers can apply for a voluntary registration by submitting such information as criminal history and child abuse registry search.
Despite the outlay of information about home-based care operators, parents anxious enough to do about five minutes of googling phrases like "home daycare deaths" will find ready reasons to be wary about trusting them with your kids. Sixty children died in unregulated Virginia daycares between 2004 and 2014. A study of daycare deaths found 1,362 child fatalities between 1985 and 2003, with 1,030 of these occurring in home-based care. Nationwide, reports of injuries in daycare facilities are wildly uneven, so it's difficult to tell whether safety has improved since.
But parents might have new tools for gaining transparency into home-based child care centers. The home-based child care start-up MyVillage has operated in Montana and Colorado since 2017 under a franchise model providing "educators" owning home-based child care "villages" assistance with marketing, curriculum, and qualifying for state licensing.
MyVillage was founded by entrepreneurs and mothers frustrated by the lack of childcare choices. "I fell in love with the home-based option," MyVillage CEO Erica Mackey says. "It's just quality often is really variable. So it's hard to know what you're going to get as a parent."
MyVillage lets parents schedule virtual tours of each "village", giving them an early idea of the environment their child will be cared for in. More programs like it will certainly pop up as need increases.
Mackey acknowledged that parents may feel uneasy about home-based care. "There's a stigma for sure," she says. "And rightfully so, because it is the option out there that generally and historically has the least oversight. And when you look at the landscape of home-based programs, the quality range goes from horrifying to phenomenal."
Parents, she says, should be very particular when they're evaluating home-based programs. But she started her business in Colorado and Montana, mid-country states where home-based is much more of a core part of the childcare ecosystem. "The stigma against home-based was nonexistent in our specific areas," she says.," but certainly, in more urban, high dense areas that does exist."
Even so, parents looking for child care solutions during the pandemic might consider a home-based option. Proper vetting is, of course, crucial. But they offer a number of positives for families in a time when negatives abound.
This article was originally published on