Idris Elba Talks Netflix, Taking His Daughter to Cheesecake Factory
Idris Elba plays the serious guy everywhere but at home, where he just wants to make his kids happy.
by Donna Freydkin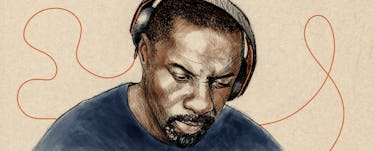 Kreg Franco for Fatherly
Idris Elba, the A-lister who made his name as a drug dealer on The Wire, his leading man bones as a single-minded detective on Luther, and a thousand headlines with his will-they-won't-they flirtation with the role of James Bond (spoiler: they won't), seems like a serious guy. He had the gravitas to bring a warlord to life in Beasts of No Nation and has the gravitational pull to go up against the Fast and Furious franchise heavyweights in the upcoming Hobbs & Shaw. But his kids don't see that. To hear Elba tell it, he's the fun dad.
"You have to be goofy with your kids," he told Fatherly. "Life isn't so serious."
With a new a comedic turn as a broke DJ sidehustling as a nanny, Elba may be about to show the world his family-friendly side for the first time. Does he brood in Netflix's Turn up Charlie? Not much. He can't help being imposing, but, for once, that's not the point. Idris Elba, the Sexiest Man Alive, is finally getting the chance to play the sweet guy he actually is offscreen.
Elba is, after all, more than a movie star. He's DJ Big Driis. He's the life of the party. He's a working parent who loves nothing more than kicking back with his daughter, Isan, 17, and his son, Winston, 4. Fatherly spoke with Elba about chilling out at home, his approach to parenting, and his deep desire to raise a kid with decent taste in music.
Does your four-year-old know what you do and that you're famous?
Sure, yes. In London he might see my face on the bus — 'There's daddy.' I'm not hiding him from it. He knows what I do. He's been on sets with me. He's starting to understand that I'm an actor. It's interesting to watch him learn that stuff. He's so curious. 'What is that person doing? What do you have to do now?
You're not known for comedy. What appealed to you about this series?
I wanted to do some comedy, have some levity, and do something less serious. I wanted to make my children laugh. And to me this show is more about parenting.
You play a nanny in Turn Up Charlie. What kind of nanny would you make in real life? Would it be a good idea to hire you?
You know what, I would be really good. I'd be parent-friendly. Meaning, I'd do everything you want me to do as a parent, but I'd be fun for the kids. It'd fit into the family aesthetic and chemistry. I'd be adventurous and take kids to do something they wouldn't ordinarily do.
Was it fun to play a role like that? Something comedic and light rather than super serious? It was liberating. It was nice to improvise a lot more and be funny. That was way more liberating than I thought it would be.
It probably helps that you're playing a DJ and happen to be one in real life.
Yeah, that's true. But no one really cares about deejaying. No one wants to see how the sausage gets made, so to speak.
Are you the DJ at home or are your kids in charge of the music? Is there an atrocious kiddie song your son plays when you're together?
He tends to take over the playlist when we're together. He has a particular type of music he likes. His mum introduced him to 1980s music. He loves house music. My son's into it. He makes music on the iPad. Anything electronic gets him going. I'm excited by the prospect of him producing music.
There's a holiday clip you posted to Instagram of your son Winston wishing your followers happy holidays. It's really touching. How do you decide what to share?
I tend not to overthink it. I don't have my kids on there all the time. I leave them to their real lives. Everything in moderation to be honest. My son is cute as hell. You gotta take pictures of that all the time but I tend not to put that out of too often. I love the little guy.
Your kids are so different in age. What's your idea of a great day with them?
My 17-year-old daughter, for her a perfect day would be a shopping day. She likes to go shopping. We'd go to a movie and then go to the Cheesecake Factory and then maybe play a little Playstation. She loves the Cheesecake Factory. With my son, last time we went to Venice Beach and then we'd do something for dinner and watch a movie.
How has your parenting style changed, between kids?
It hasn't changed. My parents governed me with an iron fist. Or at least, my mum tried. With my kids, I'm more loosey-goosey. But when it's time to be strict, I can be.
This article was originally published on