I Love 'Goodnight Moon'. But I Can't Ignore These Weird Things About It
It's far and away my favorite children's book. But it's filled with idiosyncrasies and odd choices that become impossible to ignore after the hundredth read
by Alexander Irwin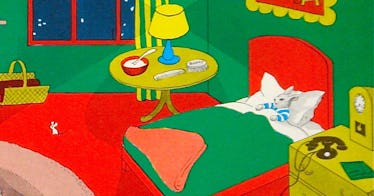 Clement Hurd/Harper Collins
I've memorized Goodnight Moon twice in my life. First, as a kid when my parents would read it to me every night before bed, and now as a father who reads it to his son every night before bed. Margaret Wise Brown's words and Clement Hurd's images are iconic. Just the phrase "In the great green room" prompts a conditioned response in me. My eyelids get heavy. I feel comforted. My chest swells thinking of my son reciting the words. I've read Goodnight Moon hundreds of times, and will no doubt read it hundreds more.
This story was submitted by a Fatherly reader. Opinions expressed in the story do not necessarily reflect the opinions of Fatherly as a publication. The fact that we're printing the story does, however, reflect a belief that it is an interesting and worthwhile read.
children's bookGoodnight Moonmoonkept it off of library bookshelves
Goodnight MooGoodnight MoonSam I AmThe Cat in the Hat.
Alexander Irwin is a father, writer, and editor living in Philadelphia. He can be reached at alexpirwin@gmail.com.
This article was originally published on