How to Set Up Family Rules That Have a Big Impact on Your Kids
The right family rules are powerful tools. But you need to enforce them with consistency and kindness.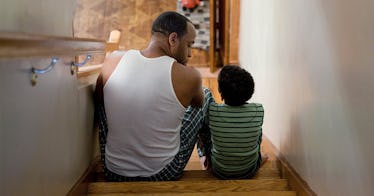 From the basic black-and-white groundwork of morals and ethics to more specific family-driven goals, it's up to us as parents to define the trajectories we want our kids to follow — and just as importantly, to stay the course on an everyday basis. That's why establishing family rules is so important. But if you're not careful, the guiding principles can easily be ineffective.
Family rules are a good way to help your kids learn how to behave, but they're so much more than tools to promote obedience, says psychiatrist and couples therapist Kathryn Ford, MD. For one thing, rules are an important way to convey your values to your kids. "The guidelines you set up for your family are a way to help your kids understand what you believe and how to implement those values," she says.
Secondly, Ford says, rules create an important sense of routine in your household. Everyone — especially little kids — feels more secure when they know what to expect. A home environment built on familiar rhythms and clear expectations are less stressful for kids (which, in turn, can help them behave better). Plus, routines can reduce the chaos in your everyday life, so you can feel more organized and less stressed as a parent.
As crucial as family rules are for everybody in your home, they're only effective if you stick with them for the long haul. In the heat of the moment, when you're exhausted or irritable, it can be tough to maintain the boundaries you set — which can end up making things more confusing and chaotic for everyone.
The key is to create rules you can enforce with consistency and kindness. Here's what you need to know about setting and sustaining your family rules, according to parenting and family experts.
How to Set Up Family Rules
Kindness
Honesty
Respect
Fairness
Hard work
Humility
Independence
Creativity
Adventure
Empathy
Now Say This: The Right Words to Solve Every Parenting DilemmaChristine E. Murray, Ph.D., LMFT,
5 Mistakes to Avoid When Creating Family Rules
1. Creating rules that aren't realistic for your child's age
2. Not following the rules yourself
3. Keeping the rules the same forever
4. Punishing for rule-breaking
5. Giving up when it's hard
This article was originally published on