How to Prepare Your Kids for the Jobs of 2037
If parents want their kids to be good at life as adults they need to be prepared to face the unknown.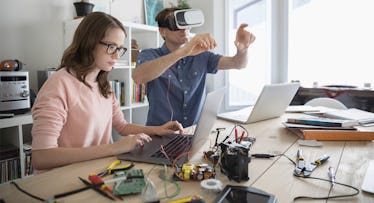 The following was produced in partnership with our friends at New York Life, who are committed to helping families be happy, successful, and good at life.
Social media manager. IOS developer. Big data architect. Cloud service specialist. Data scientist. These are all jobs that didn't exist five years ago and now they are some of the fastest growing areas of employment out there. Social and technological change is picking up speed, and there's no turning around. The World Economic Forum estimates that 65 percent of children today will end up in careers that don't even exist yet. So if parents want their kids to be good at life as adults they need to be prepared to face the unknown, rather than to be able to execute specific tasks.
It all starts with the way parents approach education. When the work field changes, learning must change too. In a recent report from the National Academies of Sciences, the experts concluded that "the education system will need to adapt to prepare individuals for the changing labor market. At the same time, recent IT advances offer new and potentially more widely accessible ways to access education."
This is why these days experts agree that it's critical that students "learn how to learn." That means that they need to be able to acquire new information and evaluate it on their own with critical thinking skills and higher levels of emotional intelligence. When executives from some of the world's leading companies were asked what they thought the most important job skills would be in the near future, their top responses included complex problem solving, critical thinking, creativity, collaboration, and emotional intelligence.
That doesn't mean that literacy, mathematics, and scientific knowledge aren't critical. But the way we encourage kids to approach each opportunity to learn or solve a problem needs to evolve with technology.
In other words, preparing your kids for their future jobs isn't as simple as making sure they learn how to code or program an app. Since we are facing a future of rapid change and technological acceleration, preparing your kids for their future jobs means teaching them to adapt — from creative and practical standpoints.
"Jobs that are more interconnected with lots of different things seem likely to last for longer before they are automated," says Katja Grace, a researcher of artificial intelligence impacts at the Machine Intelligence Research Institute.
A number of schools and learning programs are starting to cater to these interconnected needs with new learning techniques. These programs reduce adolescent isolation from the adult world and focus on respect and support young people as apprentice-adults — providing them with the environments and experiences needed to navigate the working world.
Take ZerotoStartup, a company based in Toronto that focuses on teaching kids skills that will benefit them down the road. During lessons, students in the program have the freedom and resources to bring a technology product to life as part of a team. After designing and implementing product plans, each team of students meets for 3.5 hours each session at local art and design spaces using real equipment (such as soldering irons and wiring) to create a prototype of their design. Additionally, schools across Canada are testing out a new educational tool they are calling the "Genius Hour." A few times per week students are given an hour to take on any project that interests them. Students are encouraged to learn about and try whatever they like — whether developing a video game, painting with watercolors, or designing a new toy. These programs have proven to help students develop skills such as leadership, innovation, design thinking and empathy.
Gone are the days where we can get a clear, entirely accurate answer to the question, "What do you want to be when you grow up?" because the majority of children's future options don't exist yet. So what questions should we be asking instead? According to Google education evangelist Jaime Casap, we should be asking kids what problems they want to solve. What skills and knowledge do they need to use to solve? What interests them? How can research help and how should they research? These questions encourage kids to apply and develop learning skills that will help them to build confidence to be good at life no matter what the future holds.
This article was produced in partnership with our friends at New York Life, who are committed to helping families be happy, successful, and good at life. Learn more at newyorklife.com.
This article was originally published on