How to Buy a Car in Today's Crazy Market: 6 Expert Tips to Remember
Dealerships are in extremely short supply, so consumers have to adapt. Here are some pointers to keep you from spending an excessive amount.
by Daniel Kurt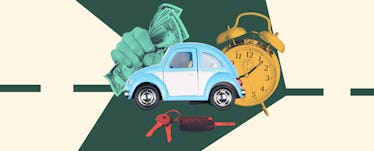 Lais Borges/BDG
Over the past couple of years, automakers have entered into the perfect storm.
First, the pandemic temporarily shut down factories. Then the chips that run everything from airbags to emergency braking systems suddenly ran out. And now supply chain issues have left other vital components stranded at port.
The result: dealerships are desperately low on inventory, forcing buyers to scramble for cars and pay inflated prices when they manage to find one. A record 82% buyers paid more than MSRP on a new car in January, according to the car-shopping site Edmunds. On average, customers paid $728 above MSRP last month, compared to $2,152 below the list price a year ago.
Is there anything consumers can do to elude that fate? Experts caution that the usual ways of snagging a bargain — price-shopping at multiple lots or waiting until fall for dealers to unload last year's models — don't necessarily work when supply is agonizingly low.
But it's still possible to buy a new set of wheels without paying through the nose if you have the right plan. This is what that plan looks like.
1. Adjust your expectations
Perhaps the most important thing before buying a car right now is to realize the unusual times we're in, says Ronald Montoya, senior consumer advice editor for Edmunds. In normal times, customers could look for special promotions or play one dealer off of another to get a lower price. A lot of that is out the window these days.
If you don't re-calibrate your concept of what a good deal is, you're bound to end up frustrated. As Montoya candidly puts it: "You're lucky if you pay sticker price."
Thinking about buying used instead? Unfortunately, things are even crazier in the pre-owned market. According to J.D. Power, the average price of a used vehicle rose a whopping 41% in 2021. Unless you get lucky, a new car may represent a better value at the moment.
2. Expand your search area
The dearth of new cars for sale has exacerbated the difference in pricing between different locations. Montoya recommends expanding your search by several miles in order to get a better deal. "Don't be afraid to go to the next county because it can make a difference," he says.
For example, when Montoya recently shopped for a Ford F-150, the local dealer was asking $6,000 above the sticker price. After making some inquiries, he found a seller four hours away where he didn't have to pay that markup. "You could save $6,000 just by taking a little bit of drive," he says.
3. Consider other models
Shortages are affecting pretty much every corner of the car market. Yet some makes and models are jumping in price more than others. Brands like Cadillac, Land Rover, and Kia have been selling at some of the highest premiums above MSRP.
If the vehicle you had your eye on is going to cost your left arm, it might be time to check out the competition. "If you can find an alternative model, you might do better," says Benjamin Preston, an auto reporter for Consumer Reports.
4. Order straight from the factory
Right now, dealers are in the driver's seat when it comes to pricing. Many of them are taking advantage, adding extra features like tinted windows and paint-protection packages to jack up the price. "The effect is that it goes up above sticker," says Montoya.
But there's a way around that, he says. By talking to the dealer's sales team about ordering your vehicle straight from the factory, you can specify the amenities you want or don't want. And because it's a guaranteed sale for them—and they don't have to worry about a car taking up space on their lot—they may have more incentive to budge on pricing.
5. Use a trade-in to your advantage
The jump in used prices isn't exactly great news for a lot of buyers. But there is a bright side: the value of trade-ins has never been higher.
If you can, offer the dealer your old car as part of the deal. "It can help soften the blow when you do purchase new," Montoya says.
6. Make sure you get what you paid for
Chip shortages have forced factories to put some features on hold. General Motors, for example, has had to temporarily forgo heated seats in several models until the needed parts become available.
When you make a purchase, Preston advises double-checking the sticker to make sure you're getting everything you paid for. In some cases, automakers will retrofit the car later, but you have to stay on top of it. "You want to ask a lot of questions beforehand," says Preston. "Once you drive it off the lot, it's yours."