How to Fight For Paternity Leave When Your Company Doesn't Offer It
Changing minds and benefits packages requires real strategy. Here are the best approaches.
by Jesse Will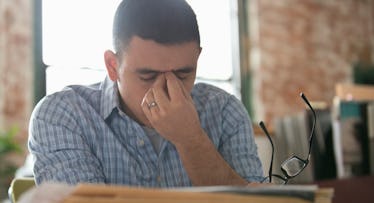 There's never been a better time to advocate for paternity leave. Though the U.S. lags behind most nations in the world in terms of paid family leave, there are signs of change. In January 2018, New York will come online with a paid leave policy, joining New Jersey, California, and three other states. Though President Trump's 2018 budget is unlikely to pass, the proposal it contains for six weeks of paid leave for new parents signals progress that is already happening in the private sector, where tech and financial services sectors are offering increasingly competitive paid leave programs designed to give employees the flexibility to take care of not only infants, but also sick spouses, and elderly parents. Still, parental leave remains the exception to the American rule and workers remain in a weak negotiating position. Would-be advocates for policy changes within companies have to tread lightly.
READ MORE: The Fatherly Guide to Parental and Paternity Leave
"There's more noise that paid family leave is possible, that the time has finally come, in I'd say the past two years, versus the previous twenty," says Gary Barker, CEO of Promundo, an NGO that advocates for gender equality.
So what can you do to help push for paid leave, whether you're fighting for your own time or advocating for others? Speak up, for one — too often, men don't in this arena. "Women tend to advocate more about work and family issues," says Dr. Brad Harrington, Executive Director at the Boston College Center for Work & Family. "There's a reluctance and a stigma among men about raising these issues — especially with an employer.". But saying something doesn't guarantee being heard. Changing minds and benefits packages requires real strategy. Here are the best approaches
Find out what you're entitled to
You're having a kid — or you're thinking about it–and you're wondering how you'll pull it off at work. First things first: Check with your HR department to see what paid time off is offered. Don't be surprised if the answer is zilch. Only eleven percent of U.S. employees have access to paid family leave.
At the minimum, you likely have access to unpaid time off, thanks to the Family and Medical Leave Act of 1993, which guarantees you take up to twelve weeks off, unpaid, while keeping your job — as long as you've worked more than 1,250 hours in the last year, and as long as your company employs 50 or more people in a 75-mile radius. While the FMLA's unpaid leave is better than nothing, it doesn't help pay the bills while you care for your newest family member. "Unpaid leave for most, means that most people can't afford to take it," says Barker.
Join a father's group in your workplace — or start one
If your company doesn't offer any worthwhile policies, it can be difficult to vie for change alone. Experts suggest forming groups of employees with similar needs may help. "They're called affinity groups, or employee resource groups — you see them for people with shared experiences, from vets to African Americans to, yes, fathers," says Harrington. Beyond offering a kind of peer support group to discuss your shared work-life challenges, such outlets allow people to better advocate desires and needs to the company as a group.
Go for the numbers
When it comes to advocating for paid leave, numbers are your best ally. "Use the data," says Barker. "The smartest companies in the U.S. are offering paid leave. Make it known that this is really an employee retention issue." To stay competitive, increase retention, and save face, companies might be persuaded to offer competitive packages. And believe it or not, your company may want your input. "The best workplaces — like Deloitte — will ask their employees what their workforce needs to be happier and more productive," says Vicki Shabo, Vice President at the National Partnership for Women and Families.
Support an Advocacy Organization
If you can afford it, donate your money — or time — to an organization fighting for paid family leave, such as Moms Rising, A Better Balance, PL+US, and Family Values @ Work. These groups campaign on local and national levels for more comprehensive leave plans.
Contact your lawmakers
Don't underestimate the power of democracy. "You've got to write your lawmakers and tell them that this isn't just about women or men, it's about parenting, and it's an issue that affects all of society," says Barker. To find who represents you on the national level, go to the "Find Your Elected Officials" page at act.commoncause.org. Or show up at a town hall meeting and speak tell them in person.
When you get paid leave… take it
A recent survey from Deloitte showed that even when a U.S. company offers it, up to a third of men are afraid to take the full length of their paternity leave — mostly due to fear of taking time off of work would "jeopardize their position." But research confirms the opposite. Should you take time off, you'll be more engaged in your child's care and likely return to work even more dedicated to it — and as an aside, you'll be pushing gender equality forward.