How the Pandemic Helped Me Become a Better Father
It was easy to be a good dad when all I had were weekends and weeknights.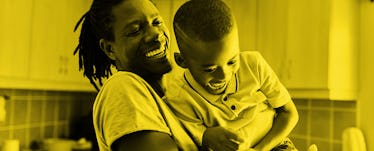 It makes sense when you think about it. It's hard to be a "bad dad" on the weekends.
In the Walker family, before COVID, Fridays meant dad picking everyone up an hour early from daycare. I would wait for Harrison (then two years old) to scramble into his car seat, insisting he "don't want help." Charlotte (three and a half) waiting in her seat, telling me about her day and end of the week.
On our way home, someone would inevitably ask what was for dinner, and the usual response was "Pizza!" and the high pitched, but always welcome, squeals of happiness would erupt. The crowd clearly approved of dad's dinner selection.
On Saturdays, dad would make pancakes and bacon – Charlotte would request a Mickey Mouse-shaped pancake (which is the only special request pancake I can serve up) — while mom watched cartoons with a cup of coffee in hand.
Weekends were busy. There was always a birthday party to attend, sometimes two, at a backyard, jump palace, or museum, followed by the most sacred times of the day: nap time. Upon waking, we'd go to a friend's house, or have friends over for playtime and a long dinner hour.
Sundays meant church, getting a donut on the way downtown, stopping for breakfast somewhere, sending the kids to Sunday School, then – you guessed it – nap time.
This story was submitted by a Fatherly reader. Opinions expressed in the story do not necessarily reflect the opinions of Fatherly as a publication. The fact that we're printing the story does, however, reflect a belief that it is an interesting and worthwhile read.
Without thinking about it, our weekends were fully planned, and Monday thru Friday even more so with both my wife and I working. There was simply no time to really be a bad dad.
Now, in the throes of the pandemic, time is the one item we all have in abundance, and I've definitely been horrible.
With both my wife and I in video conferences, feverishly pecking away at our laptops, or simply needing a breather and scrolling Instagram on our phone, fights would erupt and we would repay the favor by erupting at our 2 and 3.5 year-old. Neither of whom understand any bit of this madness, a fact that only made us feel more miserable about ourselves when cooler heads prevailed.
Like so many families all over the world, we've been staying home since early March. And it wasn't until late April that I started becoming a better dad. I thankfully had some time between jobs before starting with a new company in July, and upon doing so committed myself to being there for my family.
I took a lesson from daycare and tried breaking up the days into chunks of activities. Wagon ride outside (weather permitting), reading new books, soccer in the garage, tee-ball in the backyard, a short lesson (singing the alphabet, pointing at numbers, books of animals, and lately, teaching Charlotte to write her name), ABC Mouse, and toss in a Disney+ movie and the days have definitely started to improve.
On the days where I'm too tired, and just angry at the world, I fail. It's these days when all I want to do is scroll Twitter, but instead find myself screaming at a two-year-old boy about why climbing bookshelves is a horrible idea. The ensuing fight leads to a timeout, his little hands clutching the door, desperately trying to say "I sorry," and we're all back to feeling miserable like we did in mid-March.
But it took a global pandemic to teach me that laying on the couch endlessly scrolling on my phone while my kids played in the background, simply does not work for days (much less hours) on end. My children require, they crave, constant attention.
So while funny Reddit memes are a welcome distraction right now, I'm trying to listen to what my kids are telling me, trying to be better, trying to find the right balance between what I require to recharge as a father and what my children, my wife, and my entire family need.
It's hard work, but it's paying off. For the past two weeks, Harrison has requested Mercer Mayer's "Just Me and My Dad" book to read every night. It wasn't until recently that I viewed the request (and him) in a new light. Maybe he was asking to spend time like this together. Maybe he was telling me This is the boy I want to be, and this is the dad I want you to be. Or maybe, he's thinking that tomorrow, tomorrow we'll get there together.
If I'm wise enough, I'll listen to him. If I count one extra Mississippi tomorrow, maybe I'll remember today's lessons, and inch just that much closer to the goal line. And while I wasn't thankful for it before, I'll have the time to try again.
Khaner Walker a father in Raleigh N.C. He recently joined Syneos Health's communications team, and before then led global communications teams at Lenovo for the past 10 years. He loves all things ACC Basketball, is tragically committed to NC State Athletics, and finds his zen time on the slopes snowboarding.
This article was originally published on