How Embracing the Night Shift Made Me Truly See My Daughter
"Parenting never goes exactly as planned."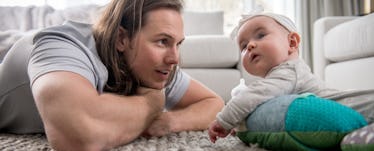 This story has been produced in partnership with the maker of Enfamil, and the award-winning Enspire, the only formula with immune-supporting Lactoferrin added as an ingredient.
The East family is a sports empire and media juggernaut all wrapped in one. There's Andrew, an NFL long snapper who has suited up for six teams on both coasts, and who, in addition to maintaining a brutal fitness regimen, also hosts a successful podcast and writes children's books. Then there's his wife, Gold Medal gymnast Shawn Johnson (you might have heard of her), who is not only one of the most recognizable gymnasts of all time, but also probably the greatest Dancing With the Stars winner too. Together, Andrew and Shawn run a wildly popular YouTube channel, The East Family, where over 1.1 million subscribers cheer them on as they tackle their most formidable test yet: raising a child.
It's no surprise that the Easts approach parenting like athletes: Find a routine, work hard, and never stop improving. But despite their playoff-like preparation leading up to the birth of their daughter, Drew, they had to throw out their intended playbook when it came to feeding their child. Here, Andrew talks about the feeding-related challenges they faced as new parents — particularly during those dreaded nighttime hours — and explains how Enfamil Enspire became their most-trusted parenting product.
There's just so much to figure out as a new parent. It's an incredible experience, but also a serious grind. As athletes, Shawn and I like to have structure and set routines, but that goes right out the window when you have a baby. You're in survival mode.
With our daughter, Drew, it was our intention to breastfeed throughout, and that was that — we didn't really even consider another scenario. As we're learning, however, parenting never goes exactly as planned. Drew latched really well at the hospital right after she was born, but once we got home, she just wasn't into it. So, we started bottle feeding way earlier than we expected, and much more than we expected. But at least we were using real breast milk — for the time being.
Drew was waking up three to four times per night for the first two months. Shawn would always hear her first — you know, those heightened "Mama Bear" senses — and she would attempt to wake me up when it was my turn. In bottle-feeding land, dads have no excuse. But I'm a super deep sleeper. One time, she had to yell my name and hit me with a pillow 23 times. She was not amused.
Not sleeping does weird things to your brain and body. I remember there was this one night where Shawn suddenly woke up at 3 a.m., fully convinced that Drew was in our bed somewhere and we couldn't find her. It was just this crazy delirious moment for both of us. Drew was fast asleep in her crib.
There was another morning when I tried to wake up for a hard workout at 5:30 a.m, but I was way too fatigued. I was getting my weight room ready to go, but before the workout even started, I ended up fainting, falling backward and hitting my head so hard I landed in the hospital.
Meanwhile, on the feeding side, we were starting to have supply issues. Shawn wasn't producing enough to keep up with Drew's appetite, so we were living in constant fear of running out, not to mention some serious mom guilt on Shawn's part. I'll never forget when we spilled a whole bottle one night and it felt like the world was ending. Shawn's crying because she felt like she failed Drew, Drew's crying because she's hungry … it was just a stressful situation.
So I went into full-on dad mode. We had to figure something out.
After talking to our pediatrician and a lot of our friends with kids, we decided to supplement with formula. Everyone was recommending a product called Enspire, Enfamil's closest formula to breast milk. I like it because Drew likes it, but also because they have all kinds of info to put your mind at ease. I've become an expert on formula ingredients. I can tell you about DHA for brain development. I can tell you about milk fat globule membranes. I can tell you about iron and proteins and all the important vitamins for infants. It's crazy how much I know about formula now — and Enspire checks all the boxes.
The feeding challenges taught us a lot about parenting. One, you have to keep your sense of humor. I have four siblings, so our household was pretty chaotic growing up, but my parents never took anything too seriously, which I admire even more now that I'm a father. Two, you just have to roll with the adjustments. Bottle-feeding with formula wasn't part of our plan, but now I really appreciate the opportunity, because I get way more bonding time with Drew. I really try to cherish every minute, even when I'm totally exhausted. Those moments will stay with me forever.