Mortgage Rates Are Nearing an All-Time Low. Is It Time to Refinance Your Home?
It's definitely a good time to consider it. But here's what you really need to be asking yourself.
by Daniel Kurt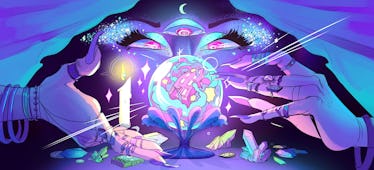 Geo Barnett for Fatherly
Mortgage rates are lower than they've been in years. So I was thinking about refinancing my home. But I know this isn't a small decision. Aside from mortgage rates, when does it make sense to refinance and when does it not? — Shane, Iowa City
Mortgage rates aren't quite at historic lows, but they're the best we've seen since 2016. Add rising property values to the mix, and it's a pretty great time to be a homeowner.
According to mortgage giant Freddie Mac, the average 30-year, fixed-rate home loan slid to 3.75 percent last week. That's more than a full percentage point from where it was sitting last fall.
No wonder, then, that a lot of folks are brushing off their loan officer's business card these days. While refinancing activity has leveled off somewhat over the past couple weeks, the Mortgage Bankers Association reports that the number of new applications is still 81 percent higher than it was at this point a year ago.
Does that mean it's a smart move for you? Maybe yes, maybe no. The interest rate — and specifically, the spread between what you're currently paying and the rate you qualify for today — is certainly an important factor. But you also need to think about how much you'll be paying in fees and how long you plan to stay at your current address.
Typically, every time you replace your mortgage, you have to take on a litany of closing costs, from loan origination and underwriting fees to appraisal and title insurance expenses. Those outlays can differ vastly depending on where you live and with whom you bank, but expect a total figure between two and five percent of your home's value.
"Bank of Dad" is a weekly column which seeks to answer questions about how to manage money when you have a family. Want to ask about college savings accounts, reverse mortgages, or student loan debt? Submit a question to Bankofdad@fatherly.com. Want advice on what stocks are safe bets? We recommend subscribing to The Motley Fool or talking to a broker. If you get any great ideas, speak up. We'd love to know.
If you can get your monthly financing charges substantially lower, the cost-savings you generate very well could make those fees worth it. But it depends on how long you plan to stick around.
Say you own a $300,000 home and pay $9,000 in closing costs to refinance. By locking in a lower interest rate, you're paying $150 less a month to your lender. You'd have to be in your home for five years, or 60 months, in order to reach the breakeven point. That's not necessarily a problem if you're in your "forever" home, but if you think you may move or outgrow your current place in a few years, you'll want to tread carefully.
It's important to realize that there really is no magic number to look for when considering a refi – it boils down to your particular situation. "The old rule of needing the rate to move by half a percent to make refinancing a good option no longer has value," says Chris Shroat, who leads the mortgage unit of Fifth Third Bank.
You should also make sure you're doing an apples-to-apples comparison. It's easy to get excited about a quote that shows a significantly lower monthly payment. But if the new loan extends five years past your existing one, you might actually be paying more in the long run. "Consider the total amount of payments required over the life of the new loan to the total amount of payments on the remaining loan," Shroat says.
While interest rates are certainly an important factor in your decision to refinance, they're certainly not the only ones. Perhaps you're looking to pull some cash out of your home to pay down expensive credit card debt. Or maybe you've built up enough equity to eliminate mortgage insurance payments with a new loan. In that case, the fact that rates are fantastically low right now is just gravy.
By the way, don't expect borrowing costs to nosedive after the Fed declared a 0.25 percentage point cut to a key benchmark rate on Wednesday. Shroat says that's exactly what the market was expecting. Rates always fluctuate a bit from one month to the next, but any movement in the near-term won't happen because of the central bank's recent announcement.