86 Gender-Neutral Baby Names Because Gender's a Construct, Anyway
There needs to be a third section of that baby-name book.
by Emily Kelleher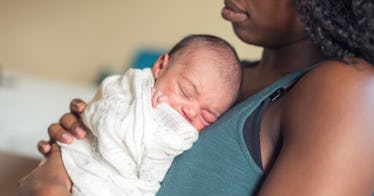 There have always been those parents who bucked convention by giving their baby girl a boy's name — from George Eliot to Stevie Nicks — or vice versa. But while gender-neutral names were once rebellious and rare, more and more parents are opting to cross (or simply eliminate) the gender divide when naming their new arrival. The vast majority of baby name books, websites, and name generators, however, still urge parents to choose between strong, tough, stately baby boy names or pretty, delicate, flowery baby girl names. And you — and maybe, later, your kid — might like those, too. But we know that kids will develop a multifaceted personality whether they're named Alexander or Alexandra. These days, girl names are boy names and visa versa. So, forget the outdated rules. There are plenty of gender-neutral baby name options that go beyond that old binary. And if you do a little more legwork and keep an open mind, you might be rewarded with a baby name that celebrates gender for the spectrum that it is — and end up with a really cool kid's name, to boot.
Whether you're waiting to find out the gender of your baby or are hoping to raise them with less stringent gender roles, these are some of the coolest gender-neutral names out there.
Ryan
Taylor
Frankie
Ira
Alex
Billie
Bobbie
Harper
Cory
Avery
Asher
Ari
Peyton
Blake
Parker
Greyson
Aidan
Amari
Bentley
Lane
Landon
Arlo
Chandler
Blaine
Charlie
Dale
Drew
Reagan
Noah
Dylan
Reese
Sawyer
Spencer
Bailey
Ezra
Carson
Reed
Devin
Levi
Bryson
Finn
Hayden
Riley
Chance
Ellis
Hayes
Rory
Lennon
Addison
Blair
Jayden
Marlow
Quin
Alex
Taylor
Emerson
Hunter
Rory
Avery
Riley
Bailey
Andy
Oakley
Jackie
Jordan
Sage
Harper
Sawyer
Charlie
Drew
Parker
Rowan
Hudson
Reese
Spencer
Ari
Chandler
Harlow
Peyton
Hadley
Aiden
Alby
Brooke
Carmen
Carson
Dylan