The Fatherly Podcast Episode 18: Somewhere Between Raffi and a Viking
The Fatherly Podcast is back for season three and Joshua David Stein is headed to sea after a trip to kid-rock heaven.
by Andrew Burmon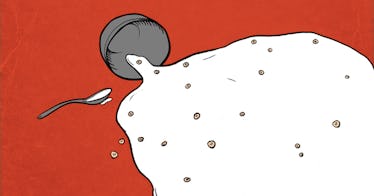 The Fatherly Podcast is back for season three with iHeartRadio and host Joshua David Stein has been joined by a new co-host, Vice TV correspondent Krishna Andavolu. On the first episode, the two discuss the lasting, bizarre, and singular appeal of Raffi. Why focus on the kid-folk icon? Well, he's on tour again and the fans, including Joshua, have been turning out for "Baby Beluga" in droves. But what is the source of this corny singer's appeal? Krishna has theories and Joshua, who has hung out with the guy and had the experience of watching his fans go absolutely crazy for a banana phone, has a lot of follow-up questions.
While Joshua was singing "Willoughby Wallaby Woo" with a crowd in Philadelphia, Krishna was following the migrant caravan through Mexico and trying to balance his travel schedule with family-time back home in New York. He speaks about what he saw in Latin America and how he returns from those trips with his head screwed on straight, ready to take care of his kid. The life of a correspondent can get, after a while, split into two; Krishna speaks to the difficulty and importance of spanning that gap.
Finally, Joshua goes looking for some advice on fatherhood and manhood more generally from an unlikely source. Bjorn Ahlander is the captain of the Draken Harald Hårfagre, the world's largest operational Viking ship. Bjorn, who has just crossed the Atlantic Ocean from Sweden, speaks to Joshua about raising his two sons in the Scandinavian fashion and how he manages the difficult task of steering both his ship and his crew. Ahlander may be a wind-worn Swede, but he's smart about people and Joshua learns some lessons on deck before returning to land.
The Fatherly Podcast is back and better (read: weirder) than ever. Come for the company and stay for feels. Come for the feels and stay for the jokes. Come for "Wheels on the Bus" and stay for the toughest man in the North Atlantic.