Chef Massimo Bottura on Cooking With Kids
The owner of 2018's best restaurant in the world opens up about his son Charlie, who is severely developmentally disabled, and how creativity takes all forms.
by Fatherly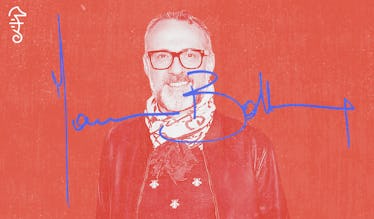 GETTY
When you think of an Italian chef, you might think of a fat guy slinging red sauce and singing opera. Massimo Bottura ain't that. The former head chef of Osteria Francescana, voted the top restaurant on Earth (currently it's number two on the World Restaurant Rankings list), is as skinny as a wire, sharp as a knife, and you're more likely to hear him bopping along to Charlie Parker than Pavoratti. In fact, he loves The Bird so much, he named his son Charlie.
On The Fatherly Podcast, Bottura spoke about how he's balanced his professional ambitions and personal intensity with the need of his daughter and of Charlie, who was born with a rare genetic disorder that necessitates constant and creative care. Bottura is nothing if not a thinker and he dove into his intellectual approach to both cooking and considering the needs of his children from a distinctly Italian perspective (his daughter butted in to keep him honest).
Thanks for listening to the first season of The Fatherly Podcast, and be sure to tune into Season 2 when it launches in early 2018 on iHeartRadio, or wherever you listen to podcasts.