A Secretary Of Education Who Got Kicked Out Of High School On The 3 Men Who Saved Him
by Jonathan Stern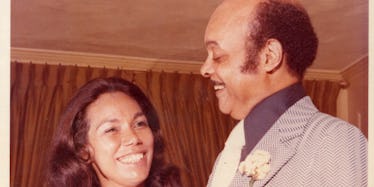 Adalinda and John B. King Sr., at their wedding (Courtesy John B. King, Jr.)
When John B. King, Jr. was 8 years old, his mother died. For the next 4 years, he wound up caring for an increasingly erratic father who had undiagnosed Alzheimer's. Then, his dad passed away and he found himself adrift at just 12 years old. "School really did save my life," says King. "It was the thing that allowed me to survive that very difficult period in my childhood and to navigate moving around between family members."
That alone is one hell of a backstory for the country's current Secretary Of Education, but it gets even more improbable: A good student, King was accepted into the prestigious Phillips Andover Academy, only to get kicked out for discipline issues during his Junior year. He moved in with his uncle, a former Tuskegee Airman, who administered a healthy dose of real on a young man teetering between 2 very different paths. King got his act together, got into Harvard, and — eventually — became responsible for ensuring children all over this country get the kind of education that ultimately saved his own life.
King cites 3 distinct father figures in his life: John B. King, Sr., who before his illness was the first African-American principal in Brooklyn; the uncle who helped him course correct as a teenager; and Mr. Alan Osterweil, his elementary school teacher. Below, he reflects on how these men shaped the man who know shapes the country's education policy.
On That Time A Guy Tried To Keep His Dad From The Classroom
"He had this belief that education saves lives, and that certainly was something that was instilled in our whole family. He would always tell about a time when he was teaching and broke his wrist playing in a basketball game over the weekend. He came in to teach his class, and the principal told him that he couldn't because there was some sort rule that you couldn't teach with a cast on. My father went over and smashed the cast on the counter, brushed the pieces in the trash, put his hand in his pocket, and went and taught his class. Whenever someone in the family said something was too hard or too difficult, he would tell that story. For him, the most important thing he could do that day was to be in his classroom with his students."
On Learning To Love The Dictionary
"When my father was studying to become a teacher, he read the dictionary multiple times. I used the same one when I was a kid. I remember each of the words had 4 or 5 check marks next to them — literally read every word of the dictionary. I'm not sure I thought at the time about the way that it shapes my values around hard work and diligence, but for sure that dictionary with those check marks, I remember it very well."
On What It's Like To Parent Yourself At 8 Years Old
"I was living with my dad, and he was quite sick because of the Alzheimer's. It was undiagnosed, so I didn't know why, but my father was very unpredictable from day to day and over that time period it just got worse and worse. I was doing my own laundry, figuring out how to get food — all of those things. During that whole period, school was the one place that was consistent and nurturing and supportive and where I could be a kid.
On Learning That Learning Is Fun
"Mr. Osterweil was my teacher in 4th, 5th, and 6th grade. There were wonderful academic experiences. We did a production of Midsummer Night's Dream, which is a powerful life experience doing Shakespeare in elementary school. The language is so challenging, but Mr. Osterweil did a great job helping us not just learn the words but understand the words and understand the ideas. He just was very good at making school both academically rigorous and joyful at the same time."
On The Importance Of Reading Things Other Than The Dictionary
"We read the New York Times every day in class, and it felt very empowering to know what was going on in the world. [Mr. Osterweil] was the kind of teacher who, when you finished a book, he was there with the next one. 'Have you thought about this book? Have you read this series yet?' I still read the New York Times every day. I still always try to have a book that I'm reading, because in his class you were always reading something. You could never say, 'Oh, I'm not reading anything right now.'"
On Being The Change You Want To See In The World
"When my uncle came back from World War II he couldn't get a job in accounting as an African-American, so he became a firefighter. He had this sense of hopefulness about the United States; about the principles of American democracy that led him to choose to be a Tuskegee Airman at a time when African-Americans were subject to intense discrimination and segregation. When he couldn't pursue the area where he was trained because of discrimination, he chose to become a firefighter and risked his life to save people. He just had this conviction that you were responsible for yourself."
On Getting A Gut Check From A Tuskegee Airman
"After I got kicked out of high school, he essentially said to me, 'Look, these things have happened to you in your life, and you can't change that. They've happened. Now the question is what kind of man do you want to be? What kind of person do you want to be? What kind of life do you want to lead?' That was a very powerful set of conversations that gave me a sense of taking responsibility for myself and helped me move past the anger to figure out what I wanted to do, what I wanted my life to be like."
On His Own Kids' Feelings About School
"I can't say that they've never rooted for a snow day, but they both really like school, I think. My opening question to them often is 'What did you learn today?' I've tried to get them to see learning as a very exciting part of life; to get them to reflect on the learning experiences that they're having — the value and beauty of those."
This article was originally published on