What A Professional Bull Rider's Father Taught Him About Picking Yourself Up Off The Dirt
It's not all roping and riding.
by Chase Scheinbaum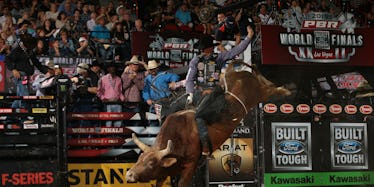 Before he became one of the best bull riders on the planet, a Hollywood stuntman, and an international model, Bonner Bolton grew up on a ranch in West Texas. It was there that the 29-year-old 2015 Professional Bull Riders finalist learned many of life's most valuable lessons from his dad, who was a "feisty," "ass-kicking," New Mexico-born cowboy fittingly named after a cactus — because the guy was prickly and at home in the desert. Toya Bolton taught his son all about raising horses, mending fences, and other minor things like tenacity and honesty. While recovering from a spinal injury suffered in the 2016 season opener, Bolton reflected on the man who got him up on the bull.
On Having A Patient Teacher
"I had a real rural background, and my dad showed me how to fix the fence, put up a new one, shoot my first rifle, hunt deer. He always took the time to show me how to do the job, rather than just expect me to know how to do it. It was important to him that I could do it so I'd be helpful, and he was so patient. His patience was really tested, too, because my brother and I were so ornery. We were rambunctious heathens out there, growing up out in the wild. My brother is 3 years older, and for the first 7 years of my life, it was just us 2 before other siblings came along. In those years, my dad invested so much time in us."
On Feeding The Animals First
"He was a real student of training horses — how to break a colt and finish out a horse for all different purposes — and he really schooled us on that. We would get up at 5:30 in the morning, go out and feed the horses because he instilled in us to take care of them first. We needed to make sure they had eaten before we fed ourselves. He taught us good, wholesome values a lot of people don't know. Having that respect for nature is so important."
On Discipline
"If we got in trouble for being knotheads, he wouldn't blow up in a physical way. When he got mad, he'd teach us a lesson by giving us more work. Sometimes we'd have to pick up rocks out in the pasture. He helped us understand through a long grueling day of work in the hot sun, where we had plenty of time to go over those mistakes. He always reprimanded us in a way where we had to go back and redo the work. He helped us see that doing wrong would create more work for ourselves. Taking instruction from your elders is usually the smartest way; he helped us see that."
On Honesty
"My dad is my number one example of someone who is honest and true in their word. He wanted to teach me and my brother to keep our word, because that is the only thing you have in this life. When you damage that, it's hard to shake it. He was adamant about staying honest with yourself and those around you, not finger-pointing or blaming others when you screw up."
On Encouragement
"He was a rodeo cowboy for 20 years, professionally for almost 15 years of that. Watching his old videos, I fell in love with the sport. I wanted to do it so bad from 3 or 4 years old. When I was 10, my body got big enough to try it, and he started me in the right way. He showed me workouts and training methods and pushed me to work hard after school — to dedicate time to training my body and mind to this sport. He didn't push me; he would prefer I didn't do it because our sport is so dangerous. But he told me that no matter what you choose to do in life, you're going to do it with your whole heart, otherwise you're not going to see success from it. He was always there to pick me up and give me those perfect words of encouragement."
On Being The Consummate Cowboy
"My dad taught us to always give back. He's a major volunteer around our community, with kids and the church. He's always been a very selfless person. He strove to be excellent always and that's the mentality he taught me and my brother. In my eyes, he has always been the truest version of a cowboy in the sense of being honest, working hard, always keeping your word, treating women and animals with respect, trying to do the right thing, always. It's a big pair of boots to fill even though he's a smaller man than me."
This article was originally published on