Words Of Wisdom From The Fathers Of Bull Riders, Comedians, And Cabinet Members
Time for some fatherly advice.
by Fatherly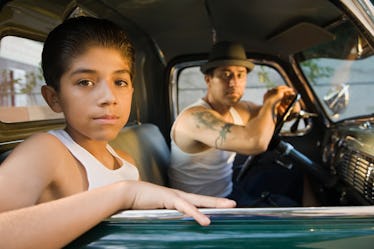 You're probably familiar with those old chestnuts that your dad used to dole out: There's that story about the fishing trip he'd use when you were about to give up. Or the one about meeting your mom that he spun when your heart got stepped on for the first time. And who could forget the one about dropping acid in 1968 and freaking out on a farm in Upstate New York (not sure why he told you that one). Just think: Where you would be without all of that advice?
Below, 5 wildly successful people — a bull rider, a very NSFW comedian, Ronnie Lott's kid, the founder of Dogfish Head Brewing, and the damn Secretary Of Education — talk about their dads' words of wisdom, and how they owe much of their successes (and getting over plenty of failures) to the guys who made them.
From everyone at Fatherly, happy Father's Day to these guys, your dad, and you.
John B. King Jr.: Secretary Of Education
"School really did save my life," says Sec. of Education John B. King, who, before shaping our country's educational policy, was shaped by 3 father figures in his life: John B. King, Sr., the first African-American principal in Brooklyn, who died when his son was only 12-years-old; his uncle, a Tuskegee Airman who helped him course correct as a teenager; and Mr. Alan Osterweil, his elementary school teacher, where he learned learning can be fun. Read more …
Nikki Glaser: Host of Comedy Central's Not Safe
From the early days, EJ Glaser was his daughter Nikki's biggest fan and supported her decision to be professionally funny — he just didn't know that one day they'd be having a chat about penis length before a live studio audience. In her Comedy Central show, Not Safe With Nikki Glaser, she explores her "curious perv" side by doing things like subjecting her wholesome Midwestern parents to a polygraph about their sex life on national TV. So, what did her dad have to say to that? Read more …
Ryan Nece: Former NFL Linebacker and Son of Hall Of Famer Ronnie Lott
It's one thing to go into the family business when your dad runs a laundromat; it's a whole different ball of pigskin when the business in question is an NFL defense and the dad in question is a Hall Of Famer and arguably the best safety in history. But being Ronnie Lott's son had its advantages for Ryan Nece, who played linebacker for 7 seasons in Tampa Bay and Detroit — and most of them came off the field. Read more …
Bonner Bolton: Professional Bull Rider
Bonner Bolton is one of the best bull riders on the planet, and he learned how to do it — along with some of life's most important lessons — from a "fiesty," "ass-kicking" New Mexican cowboy fittingly named after a cactus because he was prickly and at home in the desert. Toya Bolton taught his son all about raising horses, mending fences, and other minor things like tenacity and honesty. While recovering from a spinal injury suffered in the 2016 season opener, Bolton reflected on the man who got him up on the bull. Read more …
Sam Calagione, Founder of Dogfish Head Brewery
Once upon a time America thought that "ice" beer was a good idea. Then people like Sam Calagione decided to add a bit of pride and creativity to the endeavor of mixing hops, water, barley, and yeast together. Today, Calagione's Dogfish Head is considered to be one of the godfathers — or maybe the crazy grandpappy — of modern craft brewing. So how did he go from MFA student at Columbia to one of the best brewers in the country? Entrepreneurship — he learned it from you, dad. Read more …