Family Travel Can Change the World for Minority and Mixed Race Kids
Our stories of adventure don't appear in mainstream travel platforms, and we don't see faces like ours abroad. My family and I travel the world in spite of — and because of — that.
by Jonah Batambuze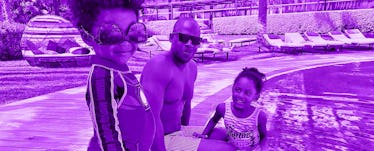 Credit: Jonah Batambuze
The travel industry has long ignored people of color. I've read enough mainstream travel publications to know that our stories of adventure are missing and I've traveled the world enough to know that this has an effect. On 95 percent of our family holidays, I won't encounter faces like mine. But I believe in travel. I believe that by exploring the world, I can help my children see, live, and learn beyond borders. I can alter expectations for the better.
For as long as I can remember, travel has influenced my life. My father studied internal medicine and cardiology at Makerere University in Kampala. Later on in his studies, he met an influential cardiologist while at a conference in Budapest, a chance encounter that helped him earn a fellowship at Northwestern University. And in 1975, my parents fled Uganda and Idi Amin — to pursue the American dream.
Our early years in America were typical of many other immigrant families. There was the constant tension of my parents wanting us to assimilate to American culture, while also ensuring we kept in touch with our roots. To make this work, my parents took us to Uganda every summer holiday — as soon as we were all old enough to make the trip.
This story was submitted by a Fatherly reader. Opinions expressed in the story do not necessarily reflect the opinions of Fatherly as a publication. The fact that we're printing the story does, however, reflect a belief that it is an interesting and worthwhile read.
Those visits were priceless. I was able to build a meaningful relationship with my grandparents before they passed away and also form a bond with the country. Even though I was young, these experiences had a monumental impact in shaping the individual I am today. One memory I'll never forget was when I cried to my mother as a 12-year-old because I believed I needed a $125 pair of Jordans for basketball. When I arrived in Kampala, I saw several young boys and girls walking around the neighborhood without shoes. The children weren't walking barefoot by choice, and at that moment, I learned to be grateful for what I had. Throughout the years, there were countless other lessons uncovered — because I chose to immerse myself in the culture.
In college, I swapped the hardwood court for an opportunity to study abroad. I was desperate for an adventure, and once again, travel came to the rescue. While I was abroad, I made a point of having a diverse group of friends. I mixed with the French, Spanish, Italian, German, English, and anyone else who'd give me a moment of their time. Naturally, being one of the only American students meant I became the reference point for all things relating to the country. My classmates regularly asked me about my thoughts on U.S. foreign policy. These conversations were new to me, and being exposed to differing viewpoints of the world challenged me to think critically. My perceptions of the world increased tenfold, and this experience turned out to be more than an adventure — it was an awakening.
Later on in life, I got married (another blessing of my travel experiences) and fathered a girl and a boy, now 5 and 3. I'd learned so much about myself and the world through travel, that there was nothing more I wanted than to share similar experiences with my children. As we started to travel as a family, I noticed that our children remembered more about these trips than I imagined. We made sure that the children's first international trips were to Uganda and India. After we returned home, our kids would say, "I'm half Ugandan and half Indian." Hearing the children make these statements proved that they'd already started making connections to their backgrounds — which is what we wanted.
I realized I was fortunate to have parents eager to keep us connected to our mother country. We were forced to travel, and this inspired my urge to explore as I grew older. I wanted other fathers like myself to know that we did exist and that it was possible to continue exploring the world with children on the scene.
Jonah Batambuze is a father of two, co-founder of the multicultural lifestyle brand KampInd, and a technology professional living outside London. You can find him on Instagram @kampind.