Here's What A Family Portrait Looks Like For Refugees And Asylum-Seekers In America
65 million refugees displaced worldwide. Here are the portraits of 3 such families.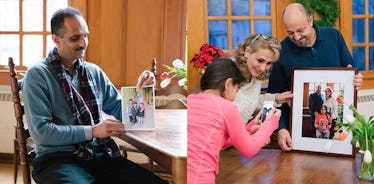 The following was produced in partnership with our friends at Johnson & Johnson and their Donate A Photo app, which delivers a $1 donation to a trusted cause of your choosing every time you share a photo.
According to the UN Refugee Agency, more people than ever have been driven from their homes due to war or persecution — more than 65 million displaced people worldwide, with an average of 24 people forced to flee every minute in the past year. Many of them face the impossible choice of leaving their families in hopes of reuniting at an unknown time and place in the future, with little to no communication in the intervening days, months, or even years.
READ MORE: The Fatherly Guide to Parenting in Other Countries
These are the stories of 3 such fathers and families who've fled their homes seeking asylum, freedom, and opportunity. They shared their experiences in exchange for a professional family portrait — or as close to one as possible right now while they await a reunion that may never come. Taking a portrait for you might mean convincing your kid in the Sears studio to stop making that face. But, for them, it may just mean a photo of them mid-video chat with a child on the other side of the globe. Despite your vastly different circumstances, that photo represents the same thing to every parent: the special feeling of having your picture-perfect, smiling family together. (And one of them making bunny ears behind their brother.)
Ebenezer
After spending 14 days stowed away in a container ship bound for anywhere but his native Ghana, carrying only a pack of cookies and bottle of water, Ebenezer was detained for 9 months and deported home.
Then he did it all again.
While he was detained the second time, Ebenezer met a man who connected him with his local church. They helped him petition for refugee status, earn his release, and bring his children to the U.S. Now, Ebenezer has a green card and a job with AAA. He'll be eligible to apply for citizenship next year.
"As a father, you have to stand on your feet to create something for your children. For their better life."
Najla & Sam
Najla and Sam are native Syrians who fled to the U.S. by way of Dubai. Sam works construction, Najla cooks at the Global Grace Café at the Reformed Church in Highland Park, New Jersey. Their daughter was born in the United States during a visit 9 years ago, but their 2 sons, 18 and 20, are living undocumented in Dubai and seeking status through the UNHCR. Because they're adults, the process could take a year or more. And if they're discovered in Dubai, they will be sent back to Syria where compulsory army service would await them. The family video chats often, and Najla carries a handkerchief for those tearful conversations.
"In the new year, we'll celebrate together as a family, not just a photo. We'll be together soon, inshallah."
Ashar
Ashar has a wife and 3 children in Pakistan who he regularly Skypes with. As an Ahmadi, he faced persecution from the Pakistani government so he fled to America, sought asylum, and was promptly detained.
"I had to leave my home at midnight. My children were crying. My son kept saying, 'I know you are not coming back. You'll come back after 2 summers.' When I was sleeping in the detention center, I could hear him," Ashar says. "I cried all day and all night in my bed. That was very difficult." In jail, he found religious acceptance from fellow detainees and church group volunteers.
"I wonder if I made a big mistake; if coming here means I'm losing my family. I want them to come as quick as they can so we can all live together again."
Ashar spent his first free nights sleeping on the church rec room floor. They helped him find a job at Robert Wood Johnson Hospital. He now has refugee status and is attempting to bring his family to the U.S.
"I spent 2 Eids in detention. My children, without their father, what kind of Eid did they have? What kind of holiday? If you want something, you tell your father. 'I want this dress, I want those shoes.' Whom would they have asked that? Now the holidays are coming, everybody's going home, my friends on facebook say, 'Where did you go?' I have no place to go. I stay home and watch TV."
"The time away is never coming back. I was not there when my eldest son lost his 2 teeth … those are small things but they mean a lot to me. The most important thing a father can give to his children is time and love and affection. I've been deprived of that. But for good. I came here and I'm sure all that will end good."
These families and millions like them maintain hope for a family portrait opportunity against all odds. You can help support their cause and others with Donate A Photo.* For every photo you share on the app, Johnson & Johnson gives $1 directly to deliver life-saving services and resources to communities in crisis.
Special thanks to Interfaith RISE, a multi-faith, multi-congregational, multi-racial concerned citizen coalition that has helped resettle Ebenezer, Najla and Sam, Ashar, and other refugees to central New Jersey. They will welcome 50 vetted refugees and immigrants (13-14 families) in the next year as a State Department-approved resettlement site.
*Johnson & Johnson has curated a list of trusted causes, and you can donate a photo to one cause, once a day. Each cause will appear in the app until it reaches its goal, or the donation period ends. If the goal isn't reached, the cause will still get a minimum donation.
This article was originally published on