Everything You Need to Know About Relationships in 9 Groucho Marx Quotes
The mustachioed cigar-smoker had a lot of wisdom.
by marc drumwright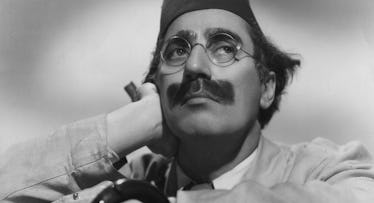 Getty
In the time before Netflix, when audiences used to get their chuckles from the Vaudeville stage, the Marx Brothers were the hottest ticket in town (that's old-timey speak for 'on fleek'). A bunch of movies in the '30s, like Horse Feathers, Duck Soup, Animal Crackers, A Day at the Races — centered around a bunch of weirdos and their leader, Groucho (aka Julius) Marx, a fast-talking hustler who had some of the best one-liners in history. Doesn't ring a bell? He was the guy with the mustache and glasses.
He was a dedicated father of three who probably destroyed on the #dadjoke front. (You can get a sense of his parenting style from his kids' memoirs, such as My Life With Groucho by his son Arthur, and Love, Groucho, by daughter Miriam.) But his best (and now dated) zingers were mostly saved for his ex-wives. Here's the collected wisdom, but mostly wit, of Groucho:
On Marriage
"Marriage is a wonderful institution, but who wants to live in an institution?"
On Love Is Blind
"She's so in love with me, she doesn't know anything. That's why she's in love with me."
On the Illusion of Control
"Man does not control his own fate. The women in his life do that for him."
On Legally Binding
"I was married by a judge. I should have asked for a jury."
On All You Need
"Just give me a comfortable couch, a dog, a good book, and a woman. Then if you can get the dog to go somewhere and read the book, I might have a little fun."
On Cause & Effect
"Marriage is the chief cause of divorce."
On Dollars & Sense
"The husband who wants a happy marriage should learn to keep his mouth shut and his checkbook open."
On Those Monthly Payments
"Alimony is like buying hay for a dead horse."
On This Article
"Quote me as saying I was mis-quoted."
This article was originally published on