Election Anxiety Is Very Real. Here are 7 Ways to Cope
This is how to stay calm and centered during election season.
by Matt Schneiderman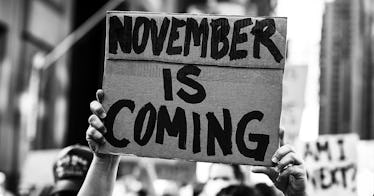 Getty
Election anxiety is real. More than two-thirds of Americans surveyed said that the upcoming presidential election on November 3rd is a source of significant stress. This is no surprise, as this election season has, for numerous reasons, been the most polarizing and contentious in recent history. Add this to the COVID-related stress we're all feeling and it's a lot to handle.
With Election Day quickly approaching, it's very understandable to find yourself more anxious, more on edge. It's also easy for those feelings to manifest as shortness or anger aimed at the people we love. Of course, that is the last thing our families need or that we want to provide them. So how do you keep yourself healthy and present? Take some deep breaths and follow the suggestions laid out below. Because, as with everything in 2020, the election will drag on for a lot longer than we anticipate.
1. Maintain the Foundational Four
In times of high stress and anxiety, the fundamentals are more important than ever. According to Vaile Wright, Ph.D., Senior Director of Health Care Innovation with the American Psychological Association, it's critical, then, to focus on the "Foundational Four": getting sufficient sleep, eating healthy, staying active, and keeping connected socially. Interrogate yourself: Am I sleeping enough hours? Am I reaching out to friends? Is my diet helping me feel energized?
Wright adds that, on top of these, you should also add activities and routines that fill you back up when you're feeling burnt out. You know yourself better than anyone else. Now's the time to really make sure you're giving yourself what you need.
2. Identify What's in Your Control — and What's Not
It's easy to get overwhelmed by the sheer amount of uncertainties in the world today. But uncertainty is always a constant and we must all learn to focus on only what we can actually control. So ask yourself: What do I have control over? What don't I? Write them down as you do so. "Make two lists on a piece of paper," says Wright. "On the left, write down the things that are out of your control. On the right, write out what things you can control — including the things that can distract you from what's stressing you and can engage you, like listening to music or watching a movie." This list can form the basis of your self-care toolkit. "In a moment of anxiety, you don't have to think about what you need to do to feel better," Wright says. "Pick something from your list."
3. Do the Things that Are in Your Control — Like Voting
When you made your lists, did you include "Vote" in the right-hand column? "Voting is you exerting your agency and control over something you do have control over — your vote," says Wright. "After you vote, you'll feel less stressed. You'll have permission to take a step back so there won't be that pressure to be so connected." You're not going to ignore what's happening, of course, but doing your part can help you moderate how much attention you're giving the election.
4. Understand How You Cope
Do you know how you cope? It's smart to really think about the things that help you destress and be your best self. Coping skills, per Wright, fall into three buckets: cognitive, physical, and sense-based.
Cognitive: Puzzles. Reading. Card and board games "These all require you to use your noggin," Wright says. "A family activity like a scavenger hunt with clues to figure out combines mental and physical."
Physical: These are activities that get your heart pumping. Yep. General exercise falls into this area. But don't box yourself in if that's not your style. "My favorite physical stress-buster is impromptu dance parties in the kitchen when we're cooking," Wright says. "Find opportunities to try something new."
Sense-based: These are activities that have you focusing on touch, taste, smell, and sound. Think: taking a hot shower. Lighting a scented candle. Drinking a cup of coffee or tea. Squeezing a stress ball. "For some people having a rubber band around their wrist and snapping it is a way to distract themselves as they focus on their body," Wright says.
Understand which category — or combination of categories — helps you the most and carve out time to make them a part of your day.
4. Limit Your Media Consumption
News, news everywhere. But not a moment to think. Doomscrolling, or the act of constantly scrolling through one soul withering news story after another, contributes to anxiety. Now is the time to be very aware of your social media and news viewing habits. Reduce your stress by limiting how much time you're spending on social media and news sites. "Stay informed, especially at the local level, but be mindful of your time online," Wright says. "That means being mindful of when, how much, and what type of information you're consuming."For starters, turn off your phone's push notifications. "Most of us don't need to know late-breaking news," Wright says. "You don't realize how often you're getting distracted all day long." Instead, set aside time to get caught up on the news — like lunch. Another good tactic: Use your phone's settings to set limits that cut you off when you've reached your fill of social media or news sites.And, while this is easier said than done, avoid what you know stresses you out. "If pundits on TV get your blood boiling, try reading your news online instead of watching it," Wright says. "With the 24-hour news cycle, you're exposed to negative images and hear the same things over and over — most of it conjecture. Go with what works best for you."
Remember the Foundational Four? That's why it's smart to avoid scrolling before bed. "You need at least an hour away from your phone before going to sleep," Wright says.
5. Step Away From Your Phone
Disabling push notifications is one thing. But it's crucial to schedule phone-free. As hard as it may be to go offline, you'll feel better if you do so. Do what it takes to disconnect for stretches of time. "Don't rely on willpower," Wright says. "Leave your phone in another room." "If you prioritize quality time for you and your family, being on the phone is not quality time," Wright says. "Set some rules for device use as a family. And if you don't let your kids use theirs at dinnertime, you shouldn't use yours, either."
6. Set Your Expectations for Election Night
With this particular election, we might not have results for days or even weeks after November 3rd. Your mindset should account for this likelihood. "Go in with the expectation of not knowing who the president will be the day after the election," Wright says. "With that established, it'll be easier to weather the period of time when we're waiting and things are uncertain."
"It comes back to focusing on the basics: taking care of yourself, taking care of your family, using your coping skills, and focusing on the things that are in your control,' Wright says. "There's not much we can do about it if it goes to the courts. Maintain your stability."
7. Model Self-Care for Your Kids
Kids are intuitive — they'll notice if you're stressed — so when you are taking measures for your own self care, tell your kids what you're doing and why. "Explain why you're turning off the news, why you're sitting down to do a puzzle together, how taking care of yourself is important," Wright says. "You're going to get stressed in life. If you're overwhelmed, tag out and have your partner take over. Demonstrate emotional well-being and ask for help when you need it."