Pastry Chef Duff Goldman on How to Write a Perfectly Sweet Love Note
A love note is a chance to say exactly what you want to say without getting derailed by life's distractions.
by Duff Goldman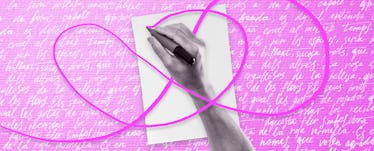 Presented by Pandora Jewelry.
Fact: Any partner who's ever told you they were fine with a romantic love letter in lieu of a gift was lying. Also a fact: A romantic note paired with the perfect gift will win you points that will last you into the New Year and beyond. Such a note shouldn't recount your entire epic love story — there's only so much paper real estate on fine stationery — so a short and sweet encapsulation of the unique love you've found is all you need. In Found Love: Gift Notes, we asked fathers to share a quick tip on how to say a lot to the mother of their children in only a few words.
To me, a love note is a way to say something in such a way that you don't normally express yourself. It's hard getting super deep sometimes with someone with all the distractions of life around us and having someone process what you are saying in real time, that can derail your train of thought. With a love note, you can say exactly what you want to say and give it to someone else and say "Here. This is how I feel."
Here's a little note for my wife Johnna:
Muffin,
I know our lives have been blown apart and blessed with that sweet, perfect, ridiculous baby, and I realize that everything can seem all about her, but always remember that I fell in love with you and every time I see you in the morning or when you're feeding Josephine or pushing a grocery cart or making a crunchy snack deli I fall in love with you all over again. It might be that I have the memory of a goldfish and every time I see you I have to re-remember that I married the most kind and loving and sexy and patient woman in the world, but I have a sneaking suspicion that it's because you're just the best thing that ever happened to me.
I caught you a delicious bass,
Duff
Duff Goldman owns Charm City Cakes and is a TV personality and author of several cookbooks. His spouse is writer Johnna Colbry.
The perfect note deserves the perfect gift. Take our quiz to reveal which piece of Pandora jewelry best fits your partner's personality.
This article was originally published on