Dating After Divorce: What It's Like to Get Back Out There, According to 12 Men
Getting back out there is different for everyone.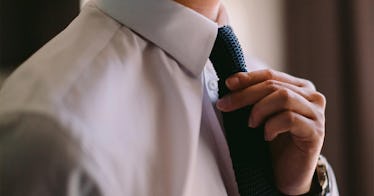 Dating after divorce, much like divorce itself, is a different journey for everyone. That sounds like some psuedo Dr. Phil-ian babble, but it's true. Getting back out there after the end of a marriage is tricky and everyone has their own timeline. For some men, there's no time lost dating after divorce; they immediately get back out there, meeting people, tapping and swiping, and doing what they can to move on and put the past behind them. For others, dating is put on the back burner after a divorce, and they take time to focus on themselves and their families. The rule many experts like to quote is that it takes one year to get over five-to-seven years of marriage. However, it's different for everyone.
But what is it like to get back to dating after divorce? We asked a dozen men about their experiences. Some took a lot of time, while others dove right into the singles' pool. Issues of anxiety or trust were mentioned. A few men viewed dating after divorce as an exciting adventure into uncharted territory, while others viewed it as be a comedy of errors that ultimately resulted in love. (Or at least a good story.) All learned a lot about themselves. Here's what they had to say about overcoming fear, boosting self-confidence, and realizing that divorce doesn't have to be the end, but rather a new beginning.
1. My best friend eased me back into it.
Chris, 42, California
2. I took it slow.
Mark, 39, Illinois
3. I took it fast.
John, 35, Missouri
4. I forgot about my "type".
Evan, 28, Pennsylvania
5. I hid my kids…at first.
Jason, 37, Ohio
6. I'm still not ready.
Tyler, 36, Michigan
7. My kids didn't like me dating.
Brian, 39, Kentucky
8. I was angry, and it showed.
Josh, 30, Maryland
9. I took care of myself first
Robert, 43, North Carolina
10. I was terrible at it — but it worked out
Jeff, 37, Florida
11. I Need to Up My Tinder Game
Sam, 35, Arizona
12. I Tried Virtual Dating For the Low-Stakes Fun
Cory, 42, Florida
This article was originally published on