What It's Like to Raise a Family on $45K Outside Reno, Nevada
"I don't know what great is, but I know what fine feels like."
by Fatherly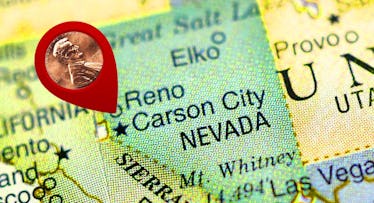 It's a question that's often on the minds of anyone who's ever looked at the high cost of raising kids today: how do parents make it work? Well, we wondered too. Which is why we're asking parents around the country for a peek into their financial lives: what they earn, spend, save, and invest as well as what financial headaches they face, what tricks they've learned along the way, and what, if anything, they have figured out. Will the answers we receive get the okay from financial advisors? Not always. Are they honest looks into families trying to provide for their kids? Absolutely. Here, Tyler, a 43-year-old married father of a 6-month-old who lives outside of Reno, Nevada explains his monthly saving and spending.
I don't know what great is, but I know what fine feels like. And, for the past few years, we've been fine. Not sure our life would sit well with most folks, but we're getting along alright.
We live in a house. Two bedroom. Was my wife's mothers and we live with her but she passed a few years back and fully left it to us. No mortgage to speak of; was paid off. I do pay about $2,500 in annual taxes. As far as utilities and such, including internet, we paid $325 this month.
I'm an electrician. A journeyman, actually. I currently make $25 an hour. I'm about half way through to my goal of 8,000 hours when I can take the master electrician test. I'll need another year, year and a half to get there. But my rate right now along with the hours I work puts me at about $47,000 a year.
I like the work and the benefits are good, too. Health insurance is pooled outside of my salary to the tune of 25 percent of my salary. Helps us stay above water and pay for doctor's appointments and such.
Groceries for the month cost us about $250 dollars. We keep things pretty tight. She cooks. I pack lunch. Eggs, toast, and coffee for breakfast. Dinners are normal, I guess, lots of skillet meals and casseroles. I grill when I can. Hearty stuff like that.
Gas costs me a good deal, as I'm driving everywhere. That and car insurance cost me about $400 total per month.
Other bills? Cellphone bill ran us about $78 for the month.
Our daughter is six months so she's just onto solid food now. Honestly, she eats mashed vegetables or chopped up versions of what we eat. That and she breast feeds. So food's not that expensive for us.
Diapers, baby wipes, and things of that sort from the drug store cost us about $120 this month. We budgeted for about $200 per month, so that was a bit of an over estimate. Prices around here are pretty good. We can go out to a decent dinner and spend about $45, not including drinks. Reno proper is really getting tough, with
Clothing wise, we have a lot of hand-me-downs. My sister has two kids and my brother-in-law and his wife have three. So that equals enough clothing for my daughter. We were lucky enough to get a number of other baby things from them, too — crib, stroller, toys, and things like that. Truth is if we need anything else we can find it at the dollar store or neighborhood sales. This month we bought some extra sippie cups, a few toys and stuffed animals for her, but she has plenty of stuff.
We're fortunate that we don't need to spend much of anything on rent. So I try to put away everything we can into savings. We would be spending about $700-800 on a one bedroom so that's what I try to throw into savings each month.
We enjoy a lot of activities and get out frequently on weekends. But many of them are church sponsored or neighborhood potluck-style events. Church barbecues are big here. Our church also has a mommy's day out thing where the women there will watch our daughter for no charge so my wife and I can enjoy the day together. We did spend about $70 on dinner and a move this month. We left the baby with my mother and got food in Reno proper and saw the new Tomb Raider film. In terms of luxuries, that was about it.
Advice? Hell I don't have any advice. Only thing I know is to keep track of what I'm spending and keep my head down. That and work my butt off.