Coronavirus Supplies: The Products All Parents Should Have At Home
These are the products you should have on hand.
by Fatherly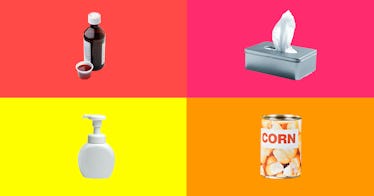 The novel coronavirus COVID-19 has upended life as we know it. Schools switched to remote learning. Anyone who was able worked, and continues to work, from home. And to this day, even as businesses open up, it's hard to get your hands on coveted items like cleaning products. Those are the obvious must-haves, but there are other coronavirus supplies that it's good to have at home, both during the pandemic and just in general, as life begins the slow lurch of returning to some semblance of normal.
At the same time, while smart shopping is a good idea, there's no need to hoard supplies. And even if, or when, we have a vaccine, these are all products parents should have on hand because if there's anything we've learned, it's that it's always smart to expect the very unexpected.
Hand soap
Repeat after us: I will wash my hands regularly. Regular, lengthy hand washing (the CDC recommends washing for at least 20 seconds with soap and water, or twice the length of the happy birthday song) is, hands-down, the best way to prevent the virus from spreading.
Canned Goods in Water
Black beans. Pinto beans. Tuna in water. Tomatoes in water. Canned goods have a substantial shelf life and offer good nutritional value. Prioritize those that are in water, as, in a pinch, that liquid can be saved to rehydrate dried goods.
Dried Goods
A good staple to have regardless of the circumstance. Such items as rice (brown and white), lentils, oats, and pasta are long lasting, simple to store, and offer significant nutritional value. Same with nuts. Just be sure to store them in air-tight containers and in a cool, dry place.
A Few Bottles of Bleach
While the real threat of the virus is person-to-person contact, disinfecting surfaces with bleach or disinfectant wipes will likely kill the virus on surfaces as it does for the regular flu. A lot of stores have this in stock, but available via pickup only.
Cold Medicine/Prescriptions
Buy whatever your go-to cough and cold medicines are (the doctor we spoke to recommended ibuprofen, Tylenol, Sudafed and Delsym) and dissolvable electrolyte solutions (pedialyte or Gatorade) as well. If you or your child is on a prescription, consider trying to get an additional month of meds even if you have to pay out of pocket (this simply requires a call to a doctor from either yourself or the pharmacist). Is this potentially expensive? Yes. But it may save some hassles if there is a run on meds or if access to pharmacies is somehow cut off.
While you're at the pharmacy get the flu shot if you haven't already and feel healthy (no sore throat, congestion, cough).
Shampoo, Soap and other Personal Care Items
Toothpaste is another basic essential you should have at home, because when you run out, it's going to suck. Same with soap and shampoo. Please don't go nuts and buy 300 bottles of anything, though. Hoarding is not a good look.
Frozen Fruits and Vegetables
As they're blanched and then frozen soon after harvest, frozen fruits and vegetables are nearly as nutritious as fresh vegetables but with a far longer shelf life. So stock up on frozen berries, spinach, peas, carrots, and other such items just in case.
Baby Food/Formula/Diapers
Diapers. Baby cream. Formula. Jarred baby food. Even if it's not needed in the near-future, you'll need some eventually. Purchasing some additional cases of staples is a smart idea.
Powdered Milk
Powdered milk is a go-to survival staple for a reason. It lasts anywhere from 2-to-10 years and, mixed with water, offers a protein-rich drink for adults and children alike. It's also useful to have on hand for mixing oatmeal or other such foods that require milk.
You can also opt for shelf-stable milk, which is good for several months before you open it. Once it's opened, it's good for about 10 days and needs to be refrigerated.
Tissues
Runny noses need tissues, so buy some additional boxes as you would if you had a bad cold or the flu. And — say it with us now — toss those used tissues in the trash, not in your pockets, not in a pile on the arm of the couch. In. The. Trash.
It's worth noting that as with cleaning product, most paper products are available for in-store purchases only. Which is unfortunate, but it is what it is.
Paper Towels/Toilet Paper
They're necessities. So buy some extra rolls — enough to last 30 days — when you're at the store.
Screen Disinfectant
The CDC recommends regularly cleaning "high-touch" surfaces a category into which fall phones, tablets, remotes, and screens. Using rubbing alcohol, window cleaner, dish soap, vinegar, surface disinfectant wipes, and even paper towels could damage a phone or device's delicate screen. The best way to clean a phone is with a damp microfiber cloth or approved screen-cleaning wipe like 3M's Notebook Screen Cleaning Wipes. Another great way to disinfect electronics is with a phone sanitizer like PhoneSoap. It zaps devices (anything that fits — not just phones) with UV light and has been proven to eliminate 99.9 percent of surface bacteria.
Laundry Detergent and Dish Soap
Clothes will still need to be cleaned. So will baby bottles, dishes, and the thousand other things that require a good scrubbing. Buying three or four containers of detergent as well as a few larger containers of dish soap to refill bottles is a good idea.
Pet Food/Supplies
Pets need consideration, too. Buying some extra cat or dog food as well as litter and any other necessities is smart to remember as you're assembling just-in-case items.
How Do Dinosaurs Get Well Soon?
This book by Jane Yolen tells the story of some sick monsters trying their best not to be monstrous in the face of infection. It's a helpful learning tool to normalize the experience of illness. It is, after all, part of life.
Remote Learning Tools
With schools closed everywhere from New York City to Los Angeles to Austin, kids are, in theory at least, going to be attending digital classrooms. You want to be prepared, so make sure they have headphones with microphones so they can listen to and communicate with teachers and students. Plus, because books are always a good idea, a Kindle is a great investment if you don't already have one.