Teddy Bears Are Here For Your Kids During Coronavirus. Use Them
"Children have less capacity in some cases to express their fears than adults," says Dr. Lewin. "Transitional objects are wonderful ways for children to express them."
by Lauren Sullivan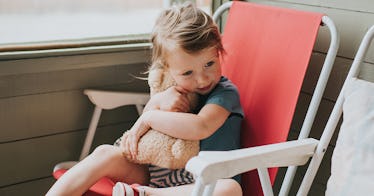 I've always prided myself on being the mom whose kids don't need a security blanket or pacifier. It's all very selfish of me. I really just never wanted another actual thing to remember as we schlepped two kids through airports, to schools — to bed, even. In the back of my head, maybe I thought that our 2- and 4-year-olds were just so independent and well-adjusted that a teddy bear, blanket, or other stuffed animal weren't needed. Maybe I'd done such a great job as a parent that they didn't need a teddy bear — not if they had my unconditional love.
Then coronavirus happened.
Not only did my husband and I find ourselves self-quarantined with two kids for an unknown amount of time, but we decided to move cities just as New York reported its first cases. We plowed ahead with our move to Philadelphia, assuring the kids their new home would be fantastic: It has a dishwasher! It has stairs! We won't have to wait in line to use the bathroom! (Things that matter enormously to grown humans and zero to young ones.)
During these last few weeks, I've watched my son clutch a little Stitch stuffed toy (a la Lilo & Stitch) he received last month at Disney World as a souvenir.
That, says Dr. Daniel Lewin, is a good thing. Lewin, a pediatric psychologist at Children's National, also explained that my stellar parenting has nothing to do with my kids' typical apathy toward comfort toys — teddy bears balls, blankets, and the like. Known as transitional objects in psychology, these objects are very powerful for kids. Incorporating them now, during this heightened time of uncertainty, is a great idea.
"Children have less capacity in some cases to express their fears than adults," says Dr. Lewin. "Transitional objects are wonderful ways for children to express them."
Parents, Dr. Lewin explained, can facilitate a positive attachment to the object as well as commentary: Consider "Here's something for you to take care of just like I take care of you." "We're going through a difficult time right now. How do you want to help your bear understand what to do?" This, he says, provides kids not only comfort but the ability to work through emotions themselves.
Lewin recommends observing how a child interacts with the object. Without playing psychologist and reading too deeply into their actions, see if your kid is "showing frustration or working out their internal feelings" with an introduced object. Parents, he says, can take a "mindful moment" to observe how you as the parent feel in that moment — use it as a chance to reflect on your own feelings.
Nina Henderson, Director of Marketing at GUND, the company responsible for super-soft teddy bears and that peek-a-boo elephant that made my daughter belly laugh as a baby for the first time, says customers write in all the time with stories of how their toys serve as true comfort objects.
"We hear about everything from sad to scary to joyful moments," Henderson says. "Whether it's someone who's having surgery or a child who brings their favorite stuffie to sleep over at grandma's, or a child who's going to the hospital to welcome their new baby brother or sister. There's a nice parallel between plush toys and instilling comfort."
Dr. Lewin also clarified that it's not just kids who could benefit from transitional objects during Coronavirus.
"We are creatures of habit," Lewin says. "One of the deepest spiritual and behavioral and emotional activities that we engage in as human beings is symbols — things around our environment that are meaningful to us."
That might be prayer, it might be a ritualistic behavior, it might be thinking about somebody who's important to us on a daily basis, it might be an object that is endowed with a long history of strong emotion and support, Lewin offered before adding: "I would put transitional objects in a very broad category of engagement with activities, behaviors, and spiritual practices that have a degree of symbolism."
As a general surgeon in New York City, Dr. Rachel Webman often sees adult patients in trauma settings cling tightly to whatever objects they bring into the hospital — a torn pair of jeans, a trinket in their pocket, an iPhone.
"We strip patients and put their belongings in a bag," Dr. Webman says. "In that moment, some will freak out. They'll come in with a gunshot wound and say, 'Don't cut my fancy jeans.' Whatever they decide to hold dear in that moment. It's like they're saying, 'Let me confront this thing as opposed to the fact that I could die.'"
Webman says those moments stand out to her, but they're not particularly surprising. She frequently has patients who come in for scheduled surgeries and ask to bring an object that means something to them: a rosary for an adult, a teddy bear for a child.
A 36-year-old mom of two, Webman understands. She still keeps her own childhood "blankie" under her bed.
"I gave it up in elementary school and picked it back up halfway through college when I was applying to med school," she says. "I even would hold it after college in stressful moments. Several of my roommates in med school had them, too. Mine's always been a source of comfort for me."
Only recently did Webman decide to give her blankie up once and for all.
"Being pregnant was exhausting. Pizza and my blankie were the only things I wanted — but I resisted! One time I pulled it out and thought, "This feels weird, I'm about to be someone's mother. I've got to give this up."
Though maybe, just like my son, now is exactly the time to pick it back up.
This article was originally published on