Coronavirus Could Tank Your Credit Score. He's How to Protect It
A lot of lenders are being lenient but you have to let them know if you're in financial trouble.
by Daniel Kurt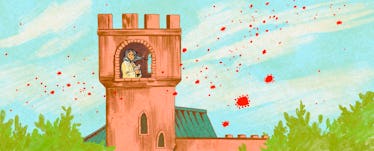 Ivy Johnson for Fatherly
For the millions of Americans who have found themselves on the unemployment roles within the past month, the short-term financial scenario is scary enough. Even worse: the fear that failure to pay one's bills will haunt them well into the future, even after the coronavirus is just an ugly memory. The key to making sure that doesn't happen, of course, is keeping a cautious eye on the credit score that lenders use when deciding to offer you credit and when determining the rate you pay. So how do you protect it when times are tough? Here are some steps you can take to make sure you're score stays healthy, even when there doesn't seem to be enough money to cover your bills.
Keep on Top of Your Credit Report
If you're used to paying all your bills on time and your credit score looked good, perhaps checking your credit reports didn't seem all that important. But with COVID-19 decimating swaths of the American economy, it may be time for a more hands-on approach.
Borrowers can get a free copy of their reports—it's likely that Experian, Equifax and TransUnion each have a file on you — once a year through the website AnnualCreditReport.com. Rod Griffin, director of public education for Experian, says reviewing them carefully will let you know how lenders are reporting your account to these three agencies and tip you off to any errors that you can then dispute.
"You get a complete picture of where you are," says Griffin. "It's a basis for beginning to take action."
Allocate Your Money Wisely
A lot of households are finding that, even with forthcoming stimulus checks and a slightly beefed-up unemployment benefit, there simply aren't enough funds to cover all their monthly payments. More than ever, it's crucial to know how much money you have coming in and devise a plan for how you'll spend every dollar.
Maybe paying down your full credit card bill is no longer a viable option—if so, don't lose sleep over it. Griffin says if you at least make your minimum payment — typically not more than 4-percent of your outstanding balance — you'll at least keep your account current. Because on-time payments are a key factor in credit scores, that will ultimately help your keep your three-digit score from taking a nosedive.
Due to the recently passed CARES Act, the U.S. Education Department won't mark missed payments on some student loans as delinquent (nor will they charge interest during that window). So, if you're having trouble putting food on the table or paying the mortgage, that's one you might consider putting lower on your list for the time being. Bear in mind that this only applies to student debt actually owned by the federal government, so borrowers with older Federal Family Education Loan (FFEL) Program and Perkins loans may not get this break.
Talk to Your Lenders
When folks run into financial trouble, there's an instinct to put your head down and hope for the best. But experts say that's the last thing you should be doing if you've just experienced a major cutback in your income.
Many lenders are offering flexibility to customers whose jobs have been impacted by the pandemic, according to Greg Jawski, a spokesman for FICO, provider of the nation's most widely used credit-scoring system. That may include putting borrowers on a temporary deferred payment plan or placing the loan in forbearance, says Jawski.
It doesn't hurt that the federal government is twisting their arm a bit. Under the CARES Act, banks have to mark accounts as current, as opposed to delinquent, if you've been affected by the coronavirus and reach out for help. "It will permanently ensure that a borrower's FICO Score won't be impacted by late payments related to the effects of the pandemic," says Jawski.
The key is that you have to take the initiative and contact your lender. Of course, that's easier said than done these days; hold times for many customer service calls and online chats have been agonizing. Given the long-term repercussions, though, it's worth your wait. "One of the biggest misses in 2008 was consumers froze and didn't get in touch directly with lenders," says Jawski.
Beware of Scammers
While many companies are giving borrowers some relief right now, others are trying to take advantage. That includes dubious credit-repair offers that may end up doing you more harm than good.
In this environment, it's even more important to do your homework before working with someone to fix your credit scores. If you find one that seeks an upfront payment for its services, Griffin recommends steering clear. By law, companies have to offer you a written contract and inform you of your legal rights.
"It's important for people to recognize things that are too good to be true," says Griffin.
Get Credit for Your Good Habits
Credit reports are great at catching borrowers when they make a late payment or overextend their credit lines. But you can also make sure they catch the things you're doing right, thereby boosting your score.
Enrolling in a free program called Experian Boost, for example, allows you report your on-time phone and utility bills to the credit bureau (though not Equifax or TransUnion). There are also a number of third-party providers like Rent Reporters and Rock the Score, which report rent payments to one or more of the credit agencies, usually for a fee.
If you're paying these bills anyway, it might be worth getting rewarded for it on your credit reports. In times like, we all need a little boost.
This article was originally published on