5 Stylish Kids' Haircuts Every Parent Should Know About
Because not every third-grader needs to rock a bowl cut.
by Jordan Obey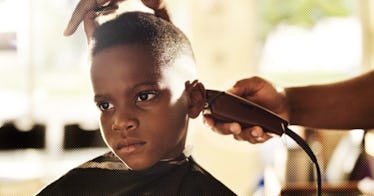 Kids' haircuts are a rite of passage for parent and child alike. Toddler haircuts are a sign that your baby is growing up, while a new hairstyle on an older kid highlights their emerging personality (it also means they might freak out in the barber's chair; it happens). For parents, it might mean an easier morning routine and fewer hours spent tenderly tugging knots out of your child's locks. Some kid's haircuts enable them to be more independent about their haircare. In short: kid's haircuts can be, at least the first dozen times, a big deal.
Because kids' hairstyles help them express the person they're shaping into, you'll want to go into a kid's haircut prepared to listen, negotiate and guide — whether you're heading to a barbershop or doing the cutting yourself. Whether you're looking for a toddler haircut to keep your kid's hair out of their face, considering a kids fade haircut, or appeasing your kid who wants a mohawk with a fohawk, there are a lot of decisions to make.
So, what are some hairstyles for kids to consider? Fatherly turned to Dana Rywelski, owner of Manhattan children's hair salon and gift boutique Doodle Doo's, and Blu, a stylist at NYC's kids' salon Milk and Cookies, for advice. First off, they recommended doing some research and bringing a picture of the haircut you have in mind if you really want the stylist to nail the look. That said, if you need some inspiration, they also said that the five haircuts for kids detailed below are popular places to start.
Kids' Hairstyles: The Fohawk / Mohawk
The fohawk isn't new, but it's in vogue again. "There are definitely more fohawk and mohawks right now than six months ago, partly due to the weather, [when there's] summer heat and all that, but also because soccer stars have brought the style out in full force," Rywelski says.
What it looks like: Like a mohawk, a thinner strip of hair is worn down the middle of the head, from top to back, and buzzed shorter on the sides. For a fohawk, the length of the sides varies ⏤ from short to medium length, just as long as that mid-section stays emphasized and leaves an impression ⏤ but for a proper mohawk, the sides have to be shaved off completely.
What to ask for: For a mohawk, ask your barber to buzz the sides down as close as possible without a fade ⏤ ask for a #1 if your kid has thin hair or a #0 for thicker hair ⏤ and keep the midline as long as you'd like. For fohawks, clip the sides rather than buzz, while still keeping the midline long.
What to keep in mind: Some soccer players dye or bleach their hair, which is tricky for kids with allergies. Instead, Rywelski suggests using non-toxic products like Funlight, a temporary hair coloring applicator that can be washed out. "They look great. I have seen some awesome, purple, pink, blues."
Kids' Hairstyles: The Bob
The bob is a shorter, above-the-shoulder style, that's popular with girls right now. "It's a universal hairstyle for adults and kids of all head shapes, hair textures, and types," says Rywelski. "A lot of people are getting them right now, and it doesn't matter what kind of hair type you have." Plus, it's a hair style that can help keep knots at bay.
What it looks like: The hair is cut straight across the bottom slightly above the shoulders and below the chin. Bobs can be layered, wavy, or cut in a French style, where the hair sits just above the chin and the bangs are close to the eyebrows.
What to ask for: After deciding on a length with your child, ask the stylist for a "bob." It's pretty straightforward. Just make sure they have a steady hand and cut in a straight line ⏤ you want the hair to stay at the same length the entire way across.
What to keep in mind: Rywelski is a fan of the bob but warns that they can take a long time to do, often twice as long as the average cut time at her shop. "There's more technique involved in making them look fabulous," she says, "They usually take between 30 and 40 minutes."
Kids' Hairstyles: The Fade
Though less extreme than trendy undercuts and mohawks, "fades are really, really popular right now," Blu says.
What it looks like: It's a cut with shorter sides (similar to an undercut) but with a gradual increase in length leading up to the top rather than totally shaved.
What to ask for: For short fades, ask the barber for a length anywhere between #0 and #2. For longer fades, go as high as #3 or #4. In both cases, be sure to tell them whether you want a high, regular, or low fade. High fades keep hair tapered short up to the very top of the head; regular fades let hair gradually start getting longer a little bit above the ear; low fades keep the shorter hair down to the temples and have the long hair drop lower than both other styles.What to keep in mind: Shorter cuts like fades accentuate the shape of the head. If your child has an odd-shaped head, says Blu, you may want to think twice.
Kids' Hairstyles: The Wedge
What it looks like: Unlike a bob, which is cut straight, the wedge is slanted. "It's cut at a descending angle so the hair on top is longer than the base," Rywelski says. "That's what gives it the wedge," and longer face-framing bangs. "It's a more sophisticated style," she adds.
What to ask for: Ask the stylist to trim the back short and close to the nape while cutting the top into layers that get longer as they get closer to the front.
What to keep in mind: A lot of kids get excited to color or dye their hair with this style. "It's kids' hair, though, and you don't want to damage it," Rywelksi reminds parents. "If you do make the choice to dye it, be sure to take care of the hair with good deep conditioners and haircuts when needed."
Kids' Hairstyles: The Undercut
What it looks like: It's a haircut where the sides of the head are cut short/close to the scalp while the hair on the top (much more hair than a simple fohawk strip) stays long and styled. It's a classic little boy haircut that looks both well-kept and edgy. And because it's cut so close on the sides, it's an ideal cut for the summer when temperatures run high and kids play outside.
What to ask for: Trim the top a bit, and then buzz the sides to either a #1 or #0. Once the stylist is done, ask for a part on the side from which the hair naturally falls.
What to keep in mind: The cut alone won't achieve the slick look, Rywelski tells parents. In addition to the style, you'll need to use a wax or gel, especially to add volume or slick back the hair. "Some hair, depending on the texture, will go in one direction more easily than the other," she says. "Thicker hair goes better to the side than fine hair, which will often fall forward and needs a product like a wax."
This article was originally published on