4 Common Credit Card Rewards Mistakes Everyone Makes — And How to Avoid Them
In this edition of Bank of Dad, our columnist helps you make the most of your credit card rewards before explaining how to buy a home when you're dealing with debt.
by Daniel Kurt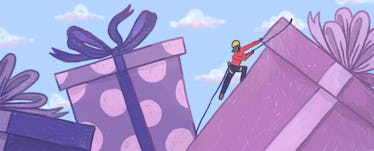 Becki Kozel for Fatherly
I recently became a dad and have a lot of stuff to buy. I figured I'd get a credit card with good rewards so i can actually receive some perks. But there are so many out there that it's overwhelming. What are the big mistakes to avoid when getting one of these rewards cards? — Jack, Missoula, Montana
There are so many great reward programs out there that it's a mistake not to be getting something back whenever you buy things like groceries or gas – especially if you have a pretty respectable credit score.
If you're not much of a traveler, the likely place you'll want to go is a cash back card, of which there are plenty of solid choices. The Discover it Cash Back card, for instance, gives you 5 percent cash back at select retailers and one percent everywhere else. And the Citi Double Cash card offers one percent cash when you make a purchase, plus another one percent when you make a payment. Neither has an annual fee.
Choosing a travel-oriented card gets a little trickier, since you really want to know beforehand that you'll actually be able to redeem your rewards. That's not always the case. To gain some insight, I reached out to the team at The Points Guy, a website that offers pretty much everything you'd ever want to know about travel credit cards, to get some of their insights. Here are some of the more common pitfalls their senior editor, Sarah Silbert, says you'll want to sidestep.
Credit Card Rewards Mistake #1: Choosing an airline that isn't convenient for you.
The last thing you want to do is pick an airline card and start racking up points, only to find that the carrier doesn't serve your home airport, or at least serve the destination cities you want to visit most. "Make sure you pick a card that earns points or miles in a program that fits your travel needs," says Silbert.
Credit Card Rewards Mistake #2: Not earning transferable points.
Airline and hotel credit cards can be great options if you want to enjoy extra perks with an airline or hotel chain. But some programs – like Amex Membership Rewards points, Chase Ultimate Rewards points or Citi ThankYou points – let you earn transferable points that give you a wider selection of options.
"For example, with Chase Ultimate Rewards-earning cards such as the Chase Sapphire Preferred and Ink Business Preferred, you can transfer points to British Airways, Hyatt, United, and Singapore Airlines among other partners," says Silbert. "So you're not locked into one rewards currency."
"Bank of Dad" is a weekly column which seeks to answer questions about how to manage money when you have a family. Want to ask about college savings accounts, reverse mortgages, or student loan debt? Submit a question to Bankofdad@fatherly.com. Want advice on what stocks are safe bets? We recommend subscribing to The Motley Fool or talking to a broker. If you get any great ideas, speak up. We'd love to know.
Credit Card Rewards Mistake #3: Not diversifying your points.
Packing your wallet full of credit cards might not be the best thing for your financial health – or your FICO score, for that matter. But having more than one card has its advantages, according to Silbert. "You'll want to have some other types of rewards beyond Ultimate Rewards points in your stash to increase your redemption options and protect against potential program changes down the line," she says.
Credit Card Rewards Mistake #4: Over-diversifying your points.
The inverse of the above can also be your downfall. If you only have a few thousand points in each program, it may not be enough to claim your reward. So don't spread yourself too thin, either.
Hope that helps. Happy card shopping!
I'd like to buy a home, but I still have significant debt that we're paying down. We have about $25,000 in student loans and another $7,000 in credit card balances. Any advice? — Amir, Wilmington, Delaware
In an age when so many young adults are swimming in student loan bills, buying a home with prior debt isn't exactly rare. In fact, it's more like the norm.
When it's time to apply for a mortgage, banks and other loan originators have to calculate your debt-to-income ratio, or DTI. It's a pretty basic calculation – you simply add up the monthly payments on any existing loans and divide by your pre-tax monthly income.
Let's take an example of someone with a similar debt load to yours. Say they paid $400 a month in student loans and had a minimum payment of $250 on their credit cards, resulting in monthly debt payments of $650. If that same person's gross income was, say, $4,350, they'd have a DTI of 15 percent ($650 ÷ $4,350).
Lenders are more lenient than you might think when it comes to having previous liabilities. Most of the time, they have to follow the rules laid down by Fannie Mae and the other organizations that buy home loans on the secondary market. Fannie increased its maximum DTI last year, making its threshold as high as 50 percent in some cases. The post-recession clampdown on underwriting guidelines seems to be a distant memory.
I don't know what your income is, but chances are, you're well below the amount where it will become an issue in getting a loan. But whether you can and whether you should buy a home are two different questions. Advice on this varies, but most experts say you don't want to be shelling out more than 30 percent of your monthly income on home payments.
Most of us yearn for the wealth-building power and sense of permanence that home ownership imparts. But you also don't want to find yourself house-poor, stressing over how to make your mortgage payments. You're best off doing the math and letting reason, not emotion, guide your decision-making.
This article was originally published on