Cody Peterson Teaches His Sons to Defy Convention — and Not Be Afraid to Fail
Peterson holds 10 patents and his second startup, Rohinni, is changing everything the tech industry knows about lighting. But he didn't get there by following a strict path. Now, he's proudly watching his 16- and 20-year old sons blaze their own.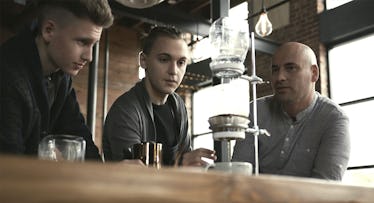 The following was produced in partnership with GMC Sierra, which enables fathers everywhere to "Dad Like a Pro." Together, we celebrate the dedication, discipline, and bold craftsmanship of parents whose achievements in business and at home help their children live full, healthy lives and change the world in the process.
Cody Peterson challenges convention. He quit the stable job he landed after college designing industrial control panels to start a company that eventually developed the world's thinnest keyboard and technologies used in today's touchscreens and touchpads, including by a certain company that told us to "think different." After selling that business and starting a family, Peterson challenged the norms again.
"You'd think if you want to spend more time with your family, the last thing to do is launch a startup and work 80 hours a week. For me, it's meant I can be innovative, do what I love, but always prioritize my family," Peterson says. "I might work late nights but when anything important happens, I can be there for them. It stops feeling like work when life is like that."
Unconventional? Sure. But Peterson isn't about convention — and that's worked out. He holds 10 patents and his second company, Rohinni, is developing micro LEDs that will change everything the tech industry knows about lighting. His family is also changing. Peterson's two sons, now 16 and 20, are blazing their own paths, following their dad's advice by not following in his footsteps.
How do you describe what you do? Are you an inventor?
That's difficult. Many of the things we've done have been extremely innovative, but often you're taking different technologies and pieces from different areas and other people's innovations and putting them together in a unique way. Does that make you an inventor or innovative?
Where does your drive to innovate come from?
I grew up on a farm in Montana. We were so far out of town that the only way to entertain myself was building things, taking stuff apart. It was fun making contraptions out of what I found around the farm. Wind-powered go-karts, all sorts of crazy stuff.
How did your parents influence you?
I grew up with my stepdad on the farm and my dad did construction. Seeing how hard they worked stuck with me. My mom was a builder, too, always creating and woodworking. That was inspiring; she wasn't just cooking meals, she was on the farm and out in the shop building things with her hands. That made me believe I could go do whatever I wanted.
Why did you start Rohinni?
LEDs were invented in the 60s and haven't changed much since. Inside every LED, there's a little diode where the light comes from. Companies take that little speck and put all this packaging around it so it can be soldered to a circuit board. We thought we could strip out 90 percent of that waste and do it better.
Why does that matter?
We've disrupted making light. Before, those little specks were too small to handle quickly. We've made them smaller — you couldn't see one on your finger with the naked eye — but our robots can place them on circuit boards faster than anybody. So now, you can put a whole bunch down and create really cool, organic-looking lights of any shape and size, and control each speck individually to make amazing, dynamic animations. It opens up new possibilities for designers, it's cheaper, and it's more power efficient. The more diodes you run together, the less power you have to drive to each one. I don't usually drink the kool-aid but I know the benefits are so strong that the entire lighting industry will change direction and do what we're doing.
Why is it so important to you to challenge convention?
I used to think bigger companies, with their thousands of engineers and billions of dollars, must be smarter. But those companies have so many gears that once they start in a certain direction it's hard for them to move. They make small iterations rather than take big steps back and say, "What's really the problem?" To me, questioning norms means having the confidence and belief, if you feel there's a better solution, to just go for it. I think that's really powerful.
How do you maintain that mindset every day?
Make it simple. There's this quote that I love: "It's easy to make something simple complex but it's difficult to make something complex simple." That mindset has worked for me so many times. Part of that is understanding the entire problem. So often people will try to improve on one little piece of a problem. You don't get disruptive innovations by doing that. You just get a little bit better mousetrap. Take the time to look at the entire problem and then try to simplify it.
Did you raise your sons to share that same attitude?
I push them to not do the normal. I tell them there are no rules in life or steps to take before you can do what you love. I try to help them find their passions and pursue whatever they are.
What do they think about what you do?
I think they're proud. I don't talk a ton about work at home, but I think they see. They realize that almost anything they want to do is attainable, which is the most important thing you can get into a kid's mindset. That's sinking in with them.
Are there parallels between running a business and parenting?
What's important to me is being a good person, having a good heart, being humble, and being secure in yourself. In business and life, if you're insecure or around insecure people, it's toxic. At Rohinni and with the boys, it's about understanding how to recognize insecurity. Another quote I like is, "It's amazing what you can accomplish if you don't care who gets credit." With that mindset, information and innovation become more fluid and fun. It doesn't feel like work anymore. So the things I preach in company culture go hand in hand with my sons.
What has surprised you most about fatherhood?
How much building company culture relates to fatherhood. With the ease of access to information and kids growing up more empowered to find it, how we motivate people is changing. Not through fear but empowerment. That's worked at Rohinni but also for my family. It's not two different worlds.
What do you hope your sons remember most about you from this time in your lives?
I hope they follow their passions and find jobs doing what they love regardless of money. I tell them all the time, if you do what you love, life will be good. I really wish that for them. I hope I've taught them humility is important and if you drive your life that way, good things happen.
What makes you confident they've got the message?
I created this innovation den, like a little incubator. We wanted to put a coffee shop there to let people come in, see startup life, and see it's not intimidating to create a company. We've never roasted coffee or anything like that. So Braden got into roasting. In four months, he's learned to source and roast coffee. It's very scientific. He started looking at ways coffee is made and devised a new, more automated way to create really good pour-overs without having a barista stand there the whole time. It was neat to see him apply those little nuggets I've hoped he would learn from me. Now he roasts coffee for some of the higher end coffee shops. Pretty crazy.
What are you most proud of as a father?
Seeing them behave with humility and character. Braden's working super hard roasting coffee beans but when somebody comes up and asks about the roasting, I see how he interacts with them. If he can inspire someone, that makes me feel like I've done a good job.
This article was originally published on