9 Rules of Success from Endurance Sports Guru and CEO Travis McKenzie
#4. Don't compete with yourself.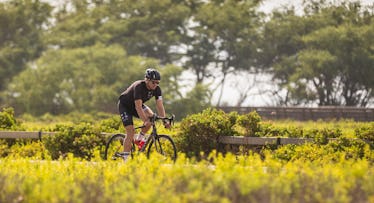 The following was produced in partnership with Just For Men. With Control GX Shampoo, gradually reducing your grey is as easy as, well, washing your hair. Use as you would your regular shampoo until you like what you see. Shampoo in. Rinse out. Move on.
Travis McKenzie grew up on Australia's Gold Coast watching his father compete in triathlons and falling in love with endurance sports. It came as a surprise to no one when he became an elite athlete himself (he's finished nine Ironman triathlons), and subsequently built a business empire around his passion. McKenzie, 34, is founder and CEO of NTSQ Sports Group, an innovative event, branding, and content company based around endurance sports (NTSQ stands for "Never the Status Quo"). Among other ventures, NTSQ organizes luxury cycling retreats all over North America and manages InnerVoice, a storytelling platform focused on endurance athletes.
Along the way, McKenzie has overcome his fair share of obstacles. In 2015, he was hit by a car while training for an Ironman and was told by doctors he may never walk again. A year later, he completed Ironman Texas in an incredible nine hours. Here, McKenzie, who is also a father, shares his thoughts on turning your childhood dreams into reality, living in the moment, and not giving up when the going gets tough.
1. Develop Daily Habits
"Not only do you have to determine your goals and your dreams, but you have to break them down into daily habits. If you want to be an elite athlete or open a business or get to a new fitness level, it's not going to happen overnight. It's about finding daily habits that will get you closer to your goals, and using your ability to stick to those habits as your measure of success. If you want to run a marathon in 12 months' time, you can choose to either sleep in or get up and do your running. Which is going to get you closer to your goal?"
2. Focus on the Journey, not the Destination
"The opportunities I've had to train with some of the world's best athletes and learn from them and laugh with them and suffer with them on the training field are the best memories I have. These are where the lessons are found — not in the good or bad results on race day."
3. Passion Is Your Fuel
"Find something you are passionate about and use that passion as fuel. But it still comes down to execution and following through and doing what you need to do to succeed. It's not always easy and it's not always a barrel of laughs. It's why every now and then you have to stop and be grateful for your opportunities and be grateful for the people around you who support you."
4. Don't Compete with Yourself
"After my accident in 2015, I started swimming and biking and running again and I began comparing myself to the level I was at in the past. But that wasn't going to work. Don't compare yourself with competitors or what you were like when you were younger. Instead, live in the moment. I learned to take it day by day, creating the daily habits that would allow me to get closer to my goal of racing again. The day I got out of the hospital, I didn't say to myself, 'In a year I will be racing Ironman again.' But over time it became possible."
5. Find Your "Why"
"To help set your goals, you have to identify your why. Why are you doing this? If you can't answer that, you are going to have a hard time sticking to your goals and reaching what you are shooting for, since there will probably be other things that will come along that will distract you."
6. Choose your Friends Wisely
"Surround yourself with people who are positive and support your goals, rather than people who are negative. Sometimes your best friend from school isn't going to be the one who helps you get to where you need to be. You might need to consider that and prioritize your relationships."
7. Make Time for Yourself
"There is sometimes a stigma around people who have goals outside of being a parent. I choose to be present for my family, to be home at dinner, on the weekends, and to take days off work to be with my daughter. But I also choose to do the things that are important to me. Finding time to ride my bike or train makes me a better dad, a better husband, and a better businessman. You can be a better man by being the best version of yourself."
8. Know When to Step Away
"Don't be afraid to step away from what you are working on if it's not working. It's not just about the quality of your work, it's also about the quality of your life. I want to be able to do the things I love without burning myself to the ground."
9. Face Your Fears
"If you have big goals in fitness or business or anything else, reaching those goals is probably going to be scary. So know you might fail at some things and not everything is going to go your way. If you really want to get somewhere exciting, it is going to take a lot of effort and work that isn't glamorous, but at the end of the day, that's what it takes to build a foundation of success."