9 Famous People Who Were Raised By Their Grandparents
The kids learned from experience.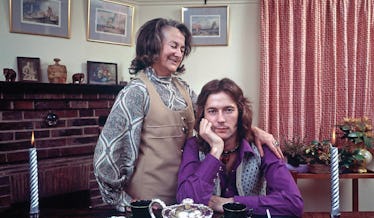 National Grandparents Day is this Sunday. That means the time to get your kid started on a hand-drawn card is short. But why not also show your appreciation for your most reliable babysitters by forwarding them (or, as they request, print it out) this list of American presidents, musicians, and celebrities. They were brought up by their grandmother and grandfathers, and all turned out pretty well. Because practice makes perfect. (FYI, you were the practice.)
Barack Obama
By the time POTUS hit his pre-teens, his mom decided he needed a better English-language education than their then-home of Jakarta, Indonesia could provide. Which is why she sent him back to the U.S. to live with his grandparents in Hawaii. Obama often cites his grandmother for instilling his love of the Constitution, and education about early civil rights leaders. In an eerie instance of cosmic misfortune, she passed away on election night eve in 2008.
Oprah Winfrey
Oprah's teenage mom moved to Milwaukee when she was born, and Winfrey stayed behind with her grandmother Hattie Mae in rural Mississippi until age 6. She's always said it was Mae who gave her the foundation that made her the media mogul she is today, teaching her to read by age 3 and bringing her to church to wow the congregants with her Bible verse-dropping skills. She probably also told the congregation to look under their pews — because they're all getting new cars!
Jack Nicholson
Until his thirties, Jack Nicholson had no idea his parents were actually his grandparents. A Time reporter discovered the truth 10 years after his fake sister/real mom died. Publicly he's said the news wasn't too traumatic, but probably because he'd already practiced this reaction when he shot Chinatown.
Eric Clapton
Eric Clapton grew up thinking his grandparents were his parents as well, even though he always used his "sister's" last name of Clapton — while they went by Mr. & Mrs. Clapp. (It's a subtle difference, but something you'd think he'd pick up on) Unlike Jack Nicholson, he's been open about how finding out the truth at age 9 kind of messed him up. Fortunately finding music as a teenager got him back on track. Heroin, not so much.
Willie Nelson
Willie Nelson's mother left right after he was born, and then his father moved away. So, there's one country song done right there. His grandparents raised him right and bought him a guitar to play and sing in church. Thanks to them he wrote his first song by age 7. His grandparents were so chill, they even let him skip out on the family cotton picking trade to make money playing music in honky tonks from age 13 through high school.
Carol Burnett
Like many of our nation's most beloved comedians, Carol Burnett's childhood was pretty solidly unfunny. Her parents were both alcoholics, and they left her to live with her grandmother in Hollywood at a young age. Famously, during the closing credits of The Carol Burnett Show, she gave a tug on her ear as a special signal to her grandmother who was watching.
50 Cent
Curtis Jackson's mother had him at age 15, wasn't around much, and died when he was 8. But thankfully his grandmother in Queens took him in — as 50 frequently raps about. He has cited his grandmother's role as the most important person in his life, even dropping an entire verse written from her perspective on "Talk About Me." She reportedly wasn't a big fan of his music, but to be fair, neither was The Game.
Jamie Foxx
Jamie Foxx's grandparents adopted him as an infant and recognized his musical talents before he even started kindergarten. Most families worry about their kids getting into the entertainment biz, but when he won a classical piano scholarship after high school, his grandmother told him that's how he was going to make money. She was kind of right — he won an Academy Award for Ray in 2005 and dedicated it to her.
Bill Clinton
Shortly before the potential first First Gentleman was born, his father died in a car crash, and his grandparents took him in so his mom could finish nursing school. He's said they were strict disciplinarians and pretty serious about early education — all of which gave him a lifelong commitment to learning. Now he's a grandparent himself, but clearly a more chill one if you saw that balloon-drop at the DNC.
This article was originally published on