The Big Lesson I Learned After Buying My Kid His First Cell Phone
I bought my son his first cell phone. How kids reacted to it — and how I reacted to their comments — taught me a big lesson.
by Mark Shatz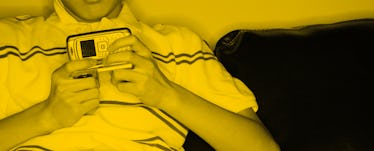 Like many, I've taken the infamous walk of shame. It usually started with beer, followed by shots of something, and ended with less than epic decision-making. The next morning, shame shuffling to the Waffle House, Walgreens, and home.
I went to college for eight years, and I took many hikes — shame, guilt, and disgust. It was always my bad, and I'm responsible for my saunters into self-destructive emotional landmines. Sadly, I'm also to blame for my son's first walk of shame after I bought him his first cell phone.
I thought owning a phone was a privilege. A perk that a child got because an employed parent used part of their paycheck to buy a thoughtful gift for their offspring. I didn't realize that owning a phone is a birthright.
This story was submitted by a Fatherly reader. Opinions expressed in the story do not necessarily reflect the opinions of Fatherly as a publication. The fact that we're printing the story does, however, reflect a belief that it is an interesting and worthwhile read
pornMark Shatz is a single-dad, psychologist, and author of Comedy Writing Secrets (3rd ed). His favorite pastime is watching his teenage son outsmart "proven" parenting techniques.
This article was originally published on