Everything You Need To Know About Parenting In 9 Bruce Springsteen Quotes
Because baby, your baby was born to run.
by Fatherly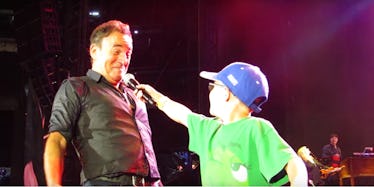 In your house, you're probably known as the boss ("that's hilarious," says your wife, kids, dog, and weekly lawn maintenance guy). But for the past 40 years, around the world, Bruce Springsteen holds that title. It's not just the fact that his music is the soul of blue-collar, working-class grit and determination. It's that he was able to romanticize the Jersey Shore — something that MTV dismantled years ago when they found a few orange orphans with names Snooki and the Situation. Springsteen has 3 kids (Evan, Jessica, and Sam) and just passed his 25th anniversary with wife/bandmate Patti Scalifa — which means that he was only metaphorically born to run. Here's the collected wisdom from hardest working dad in show business.
On A Great Metaphor For Your Baby's Birth
"The release date is just one day, but the record is forever."
On Rethinking Those Guitar Lessons
"When I was growing up, there were 2 things that were unpopular in my house: One was me, and the other was my guitar."
On 6th Grade Wisdom
"I tend to be a subscriber to the idea that you have everything you need by the time you're 12 years old to do interesting writing for most of the rest of your life — certainly by the time you're 18."
On Your Children Walking In Your Shoes
"In the early years, I found a voice that was my voice and also partly my father's voice. But isn't that what you always do? Why do kids at 5 years old go into the closet and put their daddy's shoes on? Hey, my kids do it."
On Reaching The Touring Age Of The E Street Band
"You can't be afraid of getting old. Old is good if you're gathering in life. Our band is good at understanding that equation."
On Watching What You Say To Kids
"I think that your entire life is a process of sorting out some of those early messages that you got."
On "Let's Devote Some Time To That"
"It's a sad man, my friend, who's livin' in his own skin and can't stand the company."
On Where A Boss Gets Their Work Ethic
"Work creates an enormous sense of self and I saw that in my mother. She was an enormous, towering figure to me in the best possible way. I picked up a lot of things from her in the way that I work … I also picked up a lot of the failings of when your father doesn't have those things and that results in a house that turns into a minefield. "
On Good Life Advice
"You make your music, then you try to find whatever audience is out there for it. "
Want tips, tricks, and advice that you'll actually use? Click here to sign up for our email.
This article was originally published on