Boston Sports Talker Offers Bad Opinions on Paternity Leave
by Jonathan Stern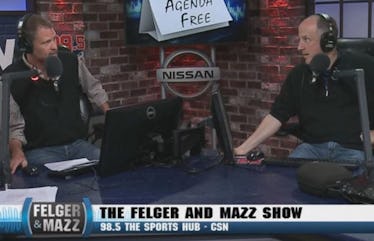 Radio host and noted enemy of paternity leave Michael Felger, has spent the last few years periodically tearing into pro athletes for taking time off to be with their newborns. Given that he's paid to make noise and that his show,"Felger & Massarotti" on 98.5, isn't terribly popular, there was never much of a pushback against this weird hot-take crusade. On Friday, that pushback started after he doubled down, going after his coworker, CBS Boston sportswriter Michael Hurley, for staying home with his newborn.
Naturally, Hurley called in to defend himself. Then things got really weird.
"What the hell is wrong with you?" Hurley inquired. "What went wrong in your life? This is what the etiquette is when someone has a baby. 'How's your wife doing and how is the baby?' That's as much as you're allowed to say about someone else having a child."
Felger, who recently celebrated the birth of Red Sox LHP Eduardo Rodriguez's baby ("These guys work six months out of the year and they can take seven days off so they can stay home and tickle the baby?"), responded by ranting about millennials, as one does.
"My qualifier is always as long as the mother and the child are ok …" he added compassionately before jamming in a qualifier about women who have "generic" deliveries. "How many days do you need to do that for? Fourteen?" he asked.
The American Academy of Pediatrics would love to see six to nine months.
"Why do you I think I get to summer in Nantucket?" Felger asked rhetorically as his righteousness gained momentum. "Because I work my ass off, Hurley! Because I work my ass off! And when my wife had a baby, I went in to work two days later because my work's important to me."
This statement was followed by Felger calling Hurley "kinda soft" for taking advantage of one the perks to which he is professionally entitled. No word yet on whether or not Felger thinks Hurley is also soft for cashing his paychecks or sleeping at home.
The exchange was ridiculous, but notable for three reasons:
Felger publicly denounced a coworker for taking leave, thereby exacerbating expectant father's concerns about taking leave.
The on-air exchange was a rare public debate on paternity leave.
The scope of Felger's wrongness was actually pretty impressive.
This article was originally published on