The Biden-Harris Campaign Puts the Spotlight on Paid Leave
The campaign's "Conversation for Care" event shined a light on a very important issue for families.
by Adam Bulger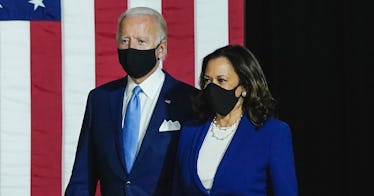 Getty
The day after the only Vice Presidential debate of 2020, the biggest story concerned an insect. A fly landed on Vice President Mike Pence's head during the debate and social media swarmed. Fly-related Twitter accounts buzzed up and Jeff Goldblum jokes abounded. Democratic Presidential Candidate and former Vice President Joe Biden posed with a flyswatter. Political theater of the most absurd variety.
The fly swallowed an outsized share of attention, but there was some substance in the debate. Pence and the Democratic Vice Presidential nominee, California Senator Kamala Harris, sparred on the Trump administration's COVID-19 response, kickstarting our pandemic-damaged economy, and whether Biden wants to ban fracking (he doesn't, Harris insisted). But overall the debate rarely intersected with the worried conversations taking among American families struggling to stay afloat, avoid infection, care for sick loved ones, and monitor children's remote education.
More than 21 million people watched the VP debate. Only a tiny fraction of that audience watched the Biden/Harris campaign' Conversation on Care livestream event from earlier that day. But the presentation on the campaign's paid family leave plan would have brought politics home for people in a way the VP debate couldn't.
America lags the world in paid leave protection. Nearly every country in the world aside from us grants citizens some degree of paid time away from the workplace. While a handful of states like New Jersey and California have passed paid leave laws and Colorado has a paid leave proposal on its ballot, there was no national legislation until this year, when President Trump signed a law granting paid leave to employees of the federal government.
When Americans who aren't employed by the federal government need to take time off when they have kids, face medical emergencies or need to care for loved ones, they have the legal right to take time off under the 1993 FMLA Act. But that's unpaid time off. And when you and your family are relying on a paycheck, that's not a viable choice.
When Ohio dad of two Jon Gromek's second son was born, he was new to a job with no leave time. Gromek's employer allowed him to take a day for the birth. But then it was right back to punching the clock. When Gromek's son was diagnosed with failure to thrive and became so dangerously underweight that crying too much presented a health risk, he and his wife spent six months having to hold him all night to soothe him.
"All that while working full time, which to put it not very eloquently, sucked," Gromek says. "What's so frustrating about that is that we're incredibly privileged and have so much more than other people in this country. We were both employed. That's what happens when things were ostensibly going well."
Katie Bethell, director of the paid leave advocacy organization PL+US Action, led the Conversation on Care. She tells Fatherly that the pandemic has brought extra urgency to America's need for paid leave. "The coronavirus did something both terrible and important," Bethell says. "It took the individual crisis of care that families are having all over the country and made that crisis happen all at once for everyone in the country. And when you have that kind of collective reckoning and awareness, you have an opportunity to move forward with bold policy."
The livestream's featured speakers, Bethell and Kamala Harris' husband Doug Emhoff, were joined by policy experts and labor activists like Ai-Jen Poo, a senior advisor for Care in Action. But arguably the most impactful statements were made by grassroots organizers who shared their personal stories of being forced to make difficult and unfair choices, like having to decide between putting food on the table or to be next to a dying parent.
Bethell, who's advocated for paid leave since 2006, says it's common to encounter heart-wrenching and relatable stories when you talk about the need for paid leave. "Paid family leave is about caring for parents with cancer or taking leave when a baby was sick," Bethell says. "It's the stuff that really matters. It's the times that really can both draw families together or, without adequate support, tear them apart."
There's bipartisan recognition that paid leave is a problem but Democrats are offering a far more aggressive fix. As part of their Build Back Better platform, the Biden/Harris campaign is proposing 12 weeks of paid family leave; Harris previously proposed six months of paid leave and made it a signature issue in her presidential campaign. Donald Trump's campaign website does not include information about plans for paid leave or other policies. However, it includes a link to Promiseskept.com, which showcases Trump's first term accomplishments, including his signing of the FY2020 NDAA that granted parental leave for federal workers.
"All politics aside, Biden has a plan for comprehensive paid leave for all and Trump does not," says Dawn Huckelbridge, Director of Paid Leave for All Action "His administration's actions are proof of that. Despite lip service on the issue, the Trump administration has blocked implementation and outreach of the bipartisan emergency paid leave provisions passed this year and refused to close the loopholes that leave out as many as 106 million workers, endangering families and pushing women out of the labor market."
Bethell, who helped Harris shape her paid leave policy, says that there's growing political utility in advocating paid leave. "When you see Republicans talking about paid family leave, what you see is a recognition that it has political currency with important blocs of voters, like suburban women and millennials," she says. "In some polls, it's a top issue. So savvy politicians that need to engage with these constituencies know that it's an issue that attracts positive attention."