The Key to Better Learning in Schools Could Better Fitness
Physical fitness has been definitively tied to improved academic achievement and schools are starting to take notice.
by The Hechinger Report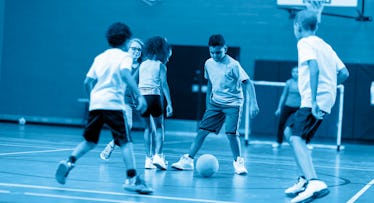 Middle school students at Kaleidoscope Academy, a district charter school in Appleton, Wisconsin, are constantly moving. Everyone has a physical education class, called "phy-ed" here, at least twice a week. On top of that, there's a daily lunch break that comes with time for kids to get outside and move around. Students can also choose from two additional exercise-focused electives — dance and personal fitness — which for some students can mean a 40-minute exercise period every day.
And the action doesn't stop there. Teachers like Lisa Sackman in the sixth-grade wing offer "brain breaks" every 20 minutes. Teacher Travis Olsen has an exercise bike in the back of his seventh-grade science classroom that kids are welcome to use whenever they feel the need. And eighth-grade co-teachers Abby Jolma and Toni Giebel let kids sit on wobbly chairs — short stools with a curved base — yoga balls, or traditional chairs while they learn math and science.
"They need it," Giebel says of the bouncing and fidgeting she now observes constantly during classes. "They need it so bad."
Giebel said it's clear to her that students concentrate better than they did three years ago when there were far fewer options for physical activity at school. But the kids themselves "don't notice it," she added. Indeed, students are mostly unimpressed with how much movement they get in their day.
During a group science lab in Giebel and Jolma's class, Anna Wang, 13, sat on one of the wobbly chairs the school purchased for classrooms this year. "It was the only option," Anna, 13, said with a shrug as she rocked back and forth on the chair, adding that she didn't think the seating made any difference.
Despite her stated disinterest, the level of physical activity Anna and her classmates experience during their school day is unusual and probably beneficial. In the U.S., where 31 percent of children between the ages of 10 and 17 are obese, most school children move far too little, experts say. Thirty years of focus on increasing academic minutes in the school day has resulted in reduced recess and physical education time at many schools. The lack of physical activity is taking a toll on student fitness and that's bad for growing brains, research shows.
This story was produced by The Hechinger Report, a nonprofit, independent news organization focused on inequality and innovation in education. Read the original story by Lillian Mongeau here.
But now a growing number of politicians and educators, like those in Appleton, have begun to heed the research and decided that to improve academic performance, they must do something about their students' physical fitness as well.
As a result of this new attitude, at least 14 state legislatures considered new laws in 2016 that would increase the amount of physical education or recess schools are required to offer or raise the bar for qualifications for physical education teachers, according to a 2016 report by the Society for Health and Physical Educators (SHAPE). Some even took action. Florida and Rhode Island now mandate 20 minutes of recess time a day for elementary school students.
The new federal education law, the Every Student Succeeds Act, or ESSA, also provides increased access to funding for physical education by including the subject in its definition of a "well-rounded education."
"At least we're at the table now," said Carly Wright, advocacy director for SHAPE. "It sends a message: The federal government does believe [physical education] should be part of a student's education; it should be part of the school day."
Charles Hillman, a kinesiology professor at Northeastern University in Boston who studies the connection between the body and the brain, says there's strong evidence that supports making physical education and recess a priority in schools.