The Best Unscented Products for Guys Who Don't Want to Smell Like Anything
Because sometimes the best product is the one that makes you smell like yourself.
by Adam Hurly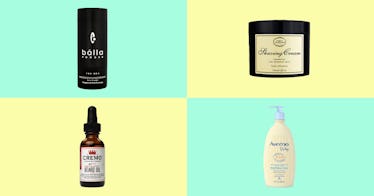 No one wants to smell terrible. But does paying attention to personal hygiene always have to mean smelling like something? It seems like every grooming product comes with some sort of scent these days — a pinch of eucalyptus to soothe the senses, a hit of cedar to compliment your manliness. And while many just like having an olfactory calling card, there's something to be said about not crop dusting the world with fragrance.
Fragrance in skincare really serves no purpose in terms of improving the effectiveness of the task at hand or making it more tolerable.
"Unscented products are, at the very least, just as good as the scented products, but more likely actually safer than skincare with added fragrance," says Austin-based dermatologist Ted Lain. "This holds especially true for people with conditions that make their skin more sensitive, including eczema, rosacea, and seborrhea."
Further yet, maybe you are experiencing dry, itchy, or rashy skin. It's possible that fragrant additives in your grooming products might be the root "Fragrance can lead to a reaction on the skin called 'contact dermatitis', wherein the skin becomes red, inflamed and itchy," Lain says.
That's as good of an excuse as anyone needs to dial back on the scented skincare. (if it is your reasoning, though, speak with your dermatologist about how to effectively scale back on scent first by pinpointing the allergy or sensitivity. Some ingredients, such as essential oils, have natural scents but may not be what's causing rashes and breakouts.) Whether you're worried about your skin or would just rather smell like yourself, there are plenty of fragrance-free products that you can purchase. Here are the ones we like best.
Hand Lotion: Vaseline Intensive Care Advanced Repair Hand Lotion
If your skin is sensitive to scents, then any of Vaseline's baseline products are a safe bet. This lotion is a top-tier option for moisture retention in the skin, which is more imperative for the hands than anywhere else, given their exposure to the elements, everyday way, and constant washing.
Beard Oil: Cremo Unscented Beard Oil
Most beard-care brands load their nourishing products with aggressively scented essential oils. With this bristle-softening oil, Cremo offers a rare exception. It's still packed with some heavy hitters, though: Sunflower, jojoba, argan, and coconut oils do their nourishing and hydrating without a trace of scent.
Body Lotion: Aveeno Baby Daily Moisture Lotion
Don't let branding fool you. Most products that are good for your baby are also good for you. Here's one you can both use for soft, smooth skin all over. This lotion hydrates and protects the skin for 24 hours, free of alcohol, allergens, and (of course) fragrances.
Shave Cream: The Art of Shaving Unscented Shaving Cream
We love everything from The Art of Shaving but appreciate that they offer unscented options like this shaving cream throughout their assortment.
Moisturizer: Lab Series Daily Moisture Defense Lotion Broad Spectrum SPF 15
Since moisturizer is the thing that lingers on and around your nose all day, this is one essential area where the scent-averse should invest their dollars. Not only is Lab Series' moisturizer unscented, but it shields you from the sun's harmful UV rays, too. Double whammy.
Body Powder: Balla Powder for Men Fragrance Free
Some guys like a tingle when they sprinkle powder on their junk. Others just want the powder to keep everything dry, sans fragrance. That's more than fair. This unscented powder has both covered. You can even sprinkle some in your socks for good measure.
Shampoo: DHS Clear Shampoo
DHS's formula keeps your scalp healthy and dandruff free. If you've got eczema, dermatitis, or psoriasis affecting your scalp, this unscented shampoo also a reliable solution.
Deodorant: Ursa Major No BS Deodorant
This deodorant is both anti-microbial and anti-bacterial, and uses only all-natural ingredients to keep you dry and odorless. In addition to being fragrance-free, it also lacks aluminum and baking soda.
This article was originally published on