6 Great Sex Positions For Lazy People
Because sometimes you don't want to work up a sweat.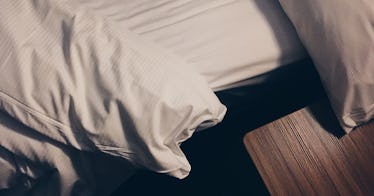 Most indulgences can be enjoyed with relative ease. You can eat nachos in bed. You can have a beer on the couch. You can snap a few vanity shots right out of the shower. Sex, however, typically requires some exertion. And that can present problems for those of us who opt to embrace our inner sloth. Let's be honest, who doesn't want to jump on the chance to be a little lazy when dealing with work, family, short and grey days and other stress-inducing occurrences? At some point or another, we're all bound to burn out. Still, that doesn't mean we have to sacrifice sex. We just have to tweak the way we perform it. Listed below, we bring you a few positions designed for the lazy. Because sometimes, a slow and easy approach feels better than anything that may come at you hard, and fast.
Spoon Sex
Here, you'll assume the cuddling classic: "the spoon." Except, you know, you'll also be naked, and erect, and some sex will be taking place. With this one, you and your partner will be both laying on your side, facing the same direction. Snuggle up behind her, almost as if to form a human chair for her press into. "It's basically doggy, but without the bending and straining of your back – or hers," says Mackenzie Riel, advice columnist and sex educator for the adult online retailer, TooTimid. "You can control how fast and deep the action is, plus it provides the perfect angle to hit her G-spot," she adds.
Straddle Saddle
Imagine this: you're sitting on the couch, watching football, or a civil war reenactment, or whatever it is you guys like to watch. Suddenly, your wife strips you down and straddles you. You're having sex, and you haven't had to do too much to get there, except, of course, for the whole "getting aroused" part. Sure, it will require a bit more effort from your partner, but once she settles into her groove, she won't have to do much, especially if she favors "grinding" over "riding." "This is a great one if you're Netflix-and-chilling and want to fool around," quips Riel.
Overboard
Another couch-based position only this time, you're the one in the driver's seat. Bend your partner over the edge of the couch while you approach her from behind. Think of it as a modified doggy-style – one where both your bodies can be propped up and support by fluffy furniture. "Doggy is one of those positions that is not as easy as you may think. This one takes the position and makes it a little more convenient," says Riel.
Flat Doggy
Another variation of doggy style. Here, your partner can lay flat on her stomach while you position yourself on top of her. She might think about propping her pelvis up with a pillow or two to enhance penetration and maximize pleasure. Remember, rear entry can facilitate access to the G-spot. Plus, it allows you both to have fun while lying down.
Flat Missionary
Yeah, this one is pretty reminiscent of the position described above, except here your partner will be positioned on her back, not her stomach. The position will still allow you to enjoy the perks of an entirely horizontal experience, but it also offers up some variety – something you might want to think about incorporating, especially if you want to last longer in bed. On top of that, it provides a full frontal view, and that's something both parties are bound to appreciate. And, of course, there's the whole bit about being able to kiss your partner. That should also be somewhat of a sell.
Hands On
Lie down and let your hands wander. Literally. Riel suggest laying next to one another and exploring each other's bodies by embracing with one of you on top or angled next to the person's privates. "Touch each other and massage each other to orgasm," she suggests. "It's easy and you can really control the action with this one."
This article was originally published on