Best Sex Positions for Flexible Couples
Have you been hitting yoga or sticking to your morning stretching routine? Give these positions a try.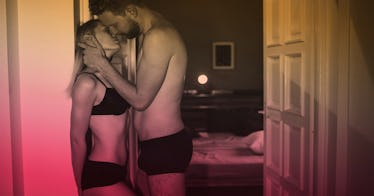 Flexibility is important within a relationship. It helps us find resolution during difficult moments and plan for future disputes. It helps us remain mindful of our partners' needs and desires and, maybe more importantly, it helps demonstrate a certain shimmer of social intelligence so many crave within a romantic partner. Yes, flexibility is important within a relationship. Of course, there are also the more literal benefits to keep in mind. Psssst. We're talking about sex.
Physical flexibility carries a number of perks. It helps minimize your risk of injury and allows your body to operate in accordance to its full potential. Oh, and it's also really convenient for having all kinds of crazy sex. To better understand the scope of opportunity awaiting those who fall into the flexible camp, we reached out to the experts. Listed below, Andy Duran, aka "Educator Andy," head of educational outreach over at Good Vibrations walks us through some sex positions designed for those who can really bend and grind.
Counter Balance
Sometimes, sex takes us to unusual places. In this case, it's going to take us straight into the kitchen, or maybe the bathroom. Wherever the closest countertop exists is where you want to be. When you find it, prop your partner up on the surface. You can stay standing in front of her while she drapes her legs over your shoulders. "It allows for deep penetration without having to support the full weight of your partner," explains Duran.
A Little L
Ask your partner to lie on her side, and extend one leg straight up into the air, as if she was turning herself into a human "L." This will allow you to go deeper than other positions permit. If you need some support when trying to station yourself, Duran suggests grabbing hold of her leg. "A must try," he emphasizes.
Table Top
For this one, you're heading back to the counter. But this time, your partner is going to be laying flat her belly. You're going to stay standing, and she's going to lock her legs behind your waist. If you're feeling adventurous, Duran says you can have your partner push up off her belly into more of a plank, but hey, only if you have the energy. You're already operating ahead of the game.
69 Spoons
"This is where you would get into a typical 69 position but both laying on your sides so that you are 'spooning' each other's head to hips," says Duran. "This can often be much easier than a typical 69 since both partners can lie comfortably.
Playing with Scissors
"Lots of people think of the scissor position solely as meant for girl-on-girl porn, but the scissor can be quite versatile," says Duran. "Folks of all genders and body sizes can receive plenty of stimulation from [this position] It also lends nicely to eye contact and the ability to lock hands to pull each other closer." Just remember: the wider the split, the deeper the grind.
Headstrong
This one requires not just flexibility, but strength as well. Think of it kind of like a reverse shoulder ride. Yeah, she'll be propped up on your shoulders like the classic maneuver, only in this context she'll be facing forward. "If done near a wall, door frame, ceiling then the person on top can remove some of the pressure by balancing themselves against it," says Duran. Oh, and maybe head for a room with high ceilings, too.
This article was originally published on