The Best Sex Positions to Help Her Orgasm (Nearly) Every Time
Orgasms shouldn't always be the focus of sex. But when they are, these are the positions to try.
by Carrie Weisman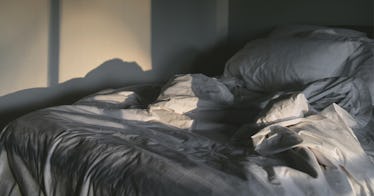 When it comes to women and (heterosexual) sex, orgasm isn't necessarily a guarantee. In fact, a heap of sex research suggests that only about a quarter of women hit climax during intercourse. Some blame the statistics on a lack of clitoral stimulation during penetration. Others say social constructs prevent women from articulating what exactly it is that they need to get off. Then there's the fact that the female orgasm can be hard to achieve. Often, achieving orgasm requires much more than physical arousal; it lies in the lead-up to the moment, in a more mind-based approach to sex. But of course, there is in-the-moment-guidance to keep in mind.
"The clitoris functions essentially the same way as the penis and vice versa," says Dr. Carol Queen, staff sexologist at Good Vibrations and author of The Sex & Pleasure Book: Good Vibrations Guide to Great Sex for Everyone. "If there is insufficient clitoral stimulation before and during intercourse, orgasm will be elusive for many women in much the same way that stroking the area next to the penis would likely not be enough to get most guys off."
No, orgasms shouldn't always be the focus of sex. But when they are, here, according to Queen and a sex and relationship experts, are the best sex positions to help prioritize the sensation (nearly) every time.
Missionary Position
We've said it before and we'll say it again: The clitoris is an important organ to focus on during sex. Any position that puts it front and center is going to maximize her chances of experiencing orgasm during sex. Missionary is one of those moves that give both parties easy access to that part of the body.
Queen suggests experimenting with something called the coital alignment technique — a variation of missionary position that allows the penis to make direct contact with the clitoris during sex.
"It's man-on-top, with his body fully on hers, her legs open, his between them, and then she wraps her legs around him. That will pull their bodies closer together and pull him up a bit so that the penis can 'ride high' against her clitoris," says Queen.
With that, we should note that what works for one woman won't work for them all. Make sure she's into what she's in for before you begin. The more clearly you communicate, the easier it will be for her to become aroused, and the better her chances of experiencing orgasm will become.
"More info, more comfort, more intimacy," adds Queen.
Doggie Style
According to the Skyn Condoms 2018 Sex Survey, doggy style is the top sex position among millennials. In fact, the data suggests that married individuals and those in committed relationships prefer the position even more so than single respondents. Those who get it on at least once a week seem to favor it as well.
"Sex from behind usually feels great for everyone involved,'says Rena McDaniel, clinical sexologist and certified sex therapist. "It allows for a greater depth of penetration and the angle allows more leverage for thrusting. Deeper penetration can hit the cervix, which can feel wonderfully intense for the person being penetrated if they are highly aroused."
Of course, the position also provides the ability to access other important areas. "Either partner can usually reach the clitoris with their hand or a toy to provide additional stimulation," says McDaniel.
Cowgirl
Woman-on-top positions allow the female party to control the pace and vigor of sex, both of which are important elements to consider when aiming for an orgasm. But it also allows her to angle herself in a way that she may not otherwise be able to achieve. This move might prove especially fruitful for women whose partners have curved penises.
"That kind of anatomy stimulates the g-spot more easily," says Queen. She suggests positioning yourselves so that the curve makes contact with the front vaginal wall. In that way, the penis can put more pressure on the G-spot than other forms of intercourse allows.
Scissoring
Yep, it's possible for straight folks to scissor. It just requires getting a bit more acrobatic than standard missionary demands. "Penetrating in a scissor-like position can be a great way to stimulate her clitorally using the hardness of the pelvic bone," says Stephanie Alys, co-founder and chief pleasure officer at MysteryVibe. "With her on her side and one of her legs by your shoulder you can kiss or suck her toes, arousing new erogenous zones. Not only that, but you have two free hands to pinch her nipples and touch her clitoris. Incorporating these dynamic multiple sensations will help to create a full bodied orgasm."
Oral
Sex, of course, is more than just penetration. As we mentioned earlier, clitoral stimulation plays a key role in the female orgasm. And oral sex caters specifically to that purpose. "About 85 percent of women require clitoral stimulation to orgasm. So it stands, oral sex would be a fantastic and sexy way to deliver her a mind blowing climax," explains Mikayla Lowry. "Use your tongue in a circling motion, in a flickering rhythm, or any other fantastic oral tricks you have (and be sure to avoid these common oral sex mistakes). Enjoy having all of the focus and pleasure be on her, and keep her arousal maintained until orgasm."
This article was originally published on