The 50 Best Places to Work for New Dads: Workday
Fatherly's annual "Best Places To Work For New Dads" ranking tracks the progress of the 50 companies doing the most to help American fathers balance work and family life. Every company on our list offers exceptional benefits, including paid leave, access to child care subsidies or programs, and flexible time policies. Though the list changes every... View Article
by Fatherly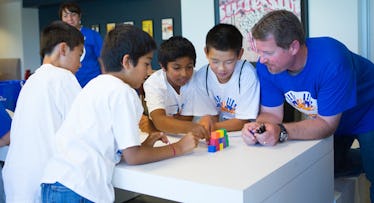 Fatherly's annual "Best Places To Work For New Dads" ranking tracks the progress of the 50 companies doing the most to help American fathers balance work and family life. Every company on our list offers exceptional benefits, including paid leave, access to child care subsidies or programs, and flexible time policies. Though the list changes every year, the overall trend among businesses actively engaging with the demand of fathers is positive. The average number of paid weeks off given to new fathers by companies on the list has, over the course of only two years, gone from four to 11, a 275 percent increase.
Naturally, many companies are appearing on this list for the third time. Corporations that are committed to helping parents tend to remain committed to helping parents. That's good news for the employees of…
Workday
Workday provides cloud applications for financial management, human capital management, and analytics to some of the biggest companies, government agencies, and universities in the world. Like other companies on this list, Workday uses Workday products to track employees on leave. Unlike other companies, they also offer elder care perks.
Headquarters: Pleasanton, CA
Number of employees: 6,400
Paid Paternity Leave: 12 weeks
Industry: Tech
2016 Rank: New Entry
Notable Father-Friendly Policies And Practices
Job-protected parental leave is guaranteed for everyone — moms, dads, adoptive parents, and non-birth parents in same-sex relationships.
Marketplace has the whole family covered with on-site daycare for employees' children and elder care resources for their grandparents.
Workday's Giving & Doing program contributes grants for volunteer hours and participation in charitable athletic events, and matches gifts of up to $1,000 per employee per year to their favorite cause.
2017 Rank: 16
For more context and more information on the companies working to help fathers, check out the complete 50 Best Places to Work for New Dads ranking, a breakdown of this year's stats, an explanation or Fatherly's methodology, the story of Patagonia's new revolutionary child care program, and our deep dive on the state of the modern American paternity leave experience.