The 50 Best Places to Work for New Dads: Netflix
Fatherly's annual "Best Places To Work For New Dads" ranking tracks the progress of the 50 companies doing the most to help American fathers balance work and family life. Every company on our list offers exceptional benefits, including paid leave, access to child care subsidies or programs, and flexible time policies. Though the list changes every... View Article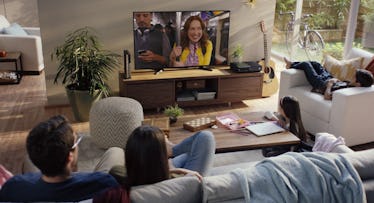 Fatherly's annual "Best Places To Work For New Dads" ranking tracks the progress of the 50 companies doing the most to help American fathers balance work and family life. Every company on our list offers exceptional benefits, including paid leave, access to child care subsidies or programs, and flexible time policies. Though the list changes every year, the overall trend among businesses actively engaging with the demand of fathers is positive. The average number of paid weeks off given to new fathers by companies on the list has, over the course of only two years, gone from four to 11, a 275 percent increase.
Naturally, many companies are appearing on this list for the third time. Corporations that are committed to helping parents tend to remain committed to helping parents. That's good news for the employees of…
Netflix
Netflix offers employees up to a year of paid parental leave during which parents can work — or not work — more or less as they please. For some employees, this facilitates long-term time off. For others, it allows for more weeks off. For those who want to be in the office, days off and totally flexible scheduling allow for truly personal decisions on how to budget time. As Chief Talent Officer Tawni Cranz explained, "Parents can return part-time, full-time, or return and then go back out as needed. We'll just keep paying them normally, eliminating the headache of switching to state or disability pay."
After the parental policy — and the company's unlimited vacation policy — made CEO Reed Hastings a minor folk hero, he reacted to the inevitable backlash by taking six weeks off to prove that the whole thing wasn't a marketing stunt.
Headquarters: Los Gatos, CA
Number of employees: 3,200
Paid Paternity Leave: 52 weeks (16 for hourly employees)
Industry: Media
2016 Rank: 1
Notable Fatherly-Friendly Policies And Practices:
The best companion benefit for up to a year of paid parental leave? Unlimited vacation. Of course, it comes with big asterisk: You have to do your job. Netflix has high performance standards, but it also has impressive employee retention.
2017 Rank: 1
For more context and more information on the companies working to help fathers, check out the complete 50 Best Places to Work for New Dads ranking, a breakdown of this year's stats, an explanation or Fatherly's methodology, the story of Patagonia's new revolutionary child care program, and our deep dive on the state of the modern American paternity leave experience.