The 50 Best Places to Work for New Dads: CA Technologies
Fatherly's annual "Best Places To Work For New Dads" ranking tracks the progress of the 50 companies doing the most to help American fathers balance work and family life. Every company on our list offers exceptional benefits, including paid leave, access to child care subsidies or programs, and flexible time policies. Though the list changes every... View Article
by Fatherly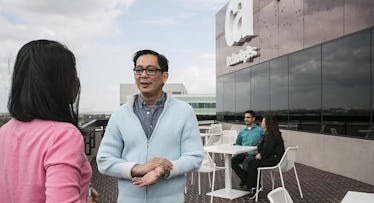 Fatherly's annual "Best Places To Work For New Dads" ranking tracks the progress of the 50 companies doing the most to help American fathers balance work and family life. Every company on our list offers exceptional benefits, including paid leave, access to child care subsidies or programs, and flexible time policies. Though the list changes every year, the overall trend among businesses actively engaging with the demand of fathers is positive. The average number of paid weeks off given to new fathers by companies on the list has, over the course of only two years, gone from four to 11, a 275 percent increase.
Naturally, many companies are appearing on this list for the third time. Corporations that are committed to helping parents tend to remain committed to helping parents. That's good news for the employees of…
CA Technologies
A $4.5 billion B2B software company focused on distributed computing and building mainframe environments, CA Technologies is a hype-free power player. And, increasingly, a family-frost organization. New initiatives, including a reentry program that allows parents to work part-time before returning to corporate life, are evidence of a continued and growing commitment to enabling better work-life balance among employees.
Headquarters: New York, NY
Number of employees: 10,782
Paid Paternity Leave: 12 weeks
Industry: Tech
2016 Rank: 23
Notable Father-Friendly Policies And Practices
New parents have the option of entering a "phase back to work" program that allows them to work half-time and gradually resume their duties over a two-week span.
New parents get a welcome baby bundle and invitations to events like office trick-or-treating, family movie nights, and amusement park outings. Annual Mother's Day and Father's Day celebrations are fixtures of the company calendar.
2017 Rank: 14
For more context and more information on the companies working to help fathers, check out the complete 50 Best Places to Work for New Dads ranking, a breakdown of this year's stats, an explanation or Fatherly's methodology, the story of Patagonia's new revolutionary child care program, and our deep dive on the state of the modern American paternity leave experience.
This article was originally published on